Sanlorenzo's executive chairman wins 23rd Ernst & Young Award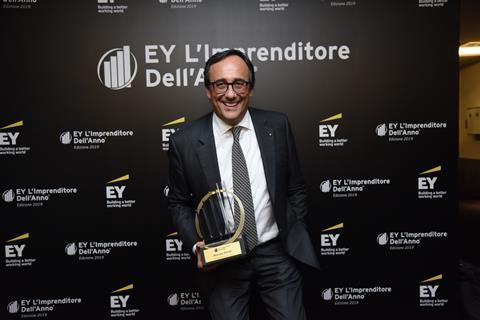 Yesterday evening, Massimo Perotti, executive chairman of Italian motoryacht builder Sanlorenzo, was announced as the national winner of the 23rd Ernst & Young Entrepreneur of the Year Award.
The award is dedicated to entrepreneurs who have excelled during their career for their ability to create value with innovative spirit and strategic vision, making a significant contribution to the growth of the Italian economy.
An independent jury composed of well-known representatives from the world of institutions, economics and business selected Perotti "for having transformed an outstanding Italian company into a brand recognised around the world as the maximum expression of elegance and exclusivity Made in Italy, moving forward on a path of growth with courage and determination, while constantly investing in the territory and human resources."
"It is a great honour for me to receive this award, which first of all rewards the work, commitment and dedication of the entire company over the years," said Perotti, who has been at the helm of Sanlorenzo since 2005.
"Every success is always the result of teamwork, and if we have experienced this phase of extraordinary expansion over the last 15 years, which has permitted us to reach the apex of worldwide production of yachts and superyachts, it is above all thanks to the men and women who work inside Sanlorenzo.
"For this reason, over the years one of the company's main areas of investment has been that of human resources, and during the period of the crisis we were able not to lose any of the benefits of that investment, completely avoiding layoffs. Especially because of their work, we have continued to create projects whose peerless quality and workmanship are acknowledged and appreciated all over the world, thanks to a unique combination of crafts, technology, design and passion."
Due to the desire to innovate, Perotti has also formulated a new way of experiencing the sea through interior design. Sanlorenzo claims to have been the first to involve outstanding talents in the interior design of yachts, such as Dordoni Architetti, Antonio Citterio Patricia Viel, Piero Lissoni (art director of the brand since 2018) and Patricia Urquiola. bringing new visions on board while introducing stylistic innovations that have made it possible to reinterpret on-board space, one of the true strong points of Sanlorenzo.
This unique, novel approach has also prompted Perotti to develop ties with the world of art, activating a series of collaborations with important galleries and cultural institutions such as Art Basel.