MRRA presents award to Correct Craft executive VP Angela Pilkington
Angela Pilkington, Correct Craft's executive vice president/chief of staff, has been awarded the 2018 Darlene Briggs Marine Woman of the Year by the Marine Retailers Association of the Americas (MRAA).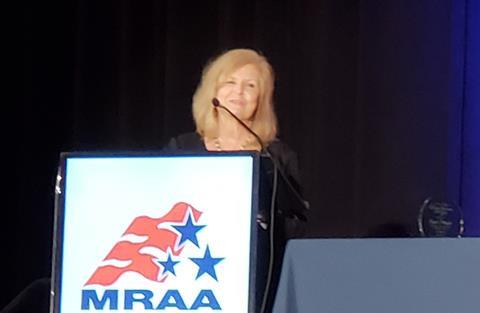 The MRAA and Boating Industry magazine present this award annually to an outstanding woman who is actively involved in the marine industry with devoted service, untiring commitment, and the advancement of women in the marine business.
Pilkington's marine industry career is a reflection of growing within an organisation, starting in 1981 as temporary employee and worked her way to administrative assistant, office manager, director of administration, vice president of administration, chief operations officer, chief financial officer, and most recently, executive vice president/chief of staff, while raising a family and completing two degrees.
Bill Yeargin, President and CEO of Correct Craft said in a company statement, "Angela is very deserving of this award. She has shown the ability to be a leader, mentor, and coach at all different levels as she's grown with the company and in the community. She is one of my trusted confidants and I have tremendous respect and admiration for her."
In Pilkington's current role she works with each Correct Craft subsidiary to drive major initiatives to both optimize their operations and execute strategic plans. She also mentors female employees throughout the organization as well as the employees who report to her.