Exploiting the unmatched synergy between the Damen and Amels brands, Rose Damen markets crossovers that are rocking the global yachting sector
Damen Shipyards Group is no stranger to winning awards and contracts for its tugs, barges, dredgers, crew suppliers, pontoons and a lot of other high seas heavy metal.
They always put a big spring in Rose Damen's step. Heading the group's yachting unit, she straddles the cultural gap between yacht and ship building. At the giant Dutch shipbuilder, she has access to its massive reservoir of expertise and R&D making Amels a formidable player in yacht building.
At the shipyard's group, Rose Damen is a member of the third generation Damens. Today, three of Kommer Damen's four children work at the global shipyard company. "The family is really committed to the company, really driven," says a long-time industry insider. "It is said Damens don't have red blood cells coursing in their veins, but tiny boats."
A non-executive board member of Damen Shipyards Group since 2008, Rose Damen took charge of the company's yachting business in 2014, armed with an MBA from INSEAD and work experience at a London investment house, an NGO in Sri Lanka and an ABN AMRO bank in Jakarta.
She recently consolidated the unit by folding into it superyacht builder Amels – which turns out spectacularly successful Limited Editions superyachts – and Damen's Yacht Support and SeaXplorer luxury expedition yachts.
"We have an agreement that none of us
of the third generation will sell the company but
look after it and hand it over to the next generation."

Rose Damen
The Yacht Supports and SeaXplorers were introduced in 2009 and 2015, respectively, and have revolutionised high-end yachting.
The Damen-branded SeaXplorers target new, young owners, keen to skip the Mediterranean cocktail circuit in favour of exploring faraway destinations. Damen is now building three SeaXplorers, the first Polar Code-compliant superyachts of up to 105m. They can stay at sea for 40 days with all provisions, equipment, extra crew, pilot and expedition guides.
"The first will be launched next year, a 62m project of 1900GT," says Rose Damen. At the same time, Damen has delivered 14 Yacht Supports so far and has several more in build. Yacht Supports carry a mother yacht's toys, tenders, subs, helicopters, provisions, extra crew and staff. It is a cheaper solution than buying a larger mother yacht which is why Damen calls it the "smart stretch."
R&D SUSTAINABILITY
To develop yachts this capable, this ambitious, requires significant R&D spending. "Annually, the Damen group spends €30 to €40 million in R&D," says Rose Damen. "Over the next three years, the group plans to spend more than €100 million on R&D in the area of sustainability alone."
This financial heft is a very powerful leg-up for the Damen and Amels yachts. The Yacht Supports and SeaXplorers are "crossovers," says Rose Damen. "We combine Damen's technical knowhow and Amels' experience in the yachting market."
The Damen Group is very successful at building standard platforms for commercial vessels to cut costs and accelerate delivery times. It does the same for the SeaXplorers, the Yacht Supports and Amels' Limited Editions.
Rose Damen has kept the Amels and Damen brands intact within the group's yachting branch. "It's like the Volkswagen Group that also sells Audis. You'll continue to see one company, two brands," she says.
Damen operates in at least 17 maritime sectors. From workboats to cargo vessels, from patrol craft to dredgers to superyachts. The yachting business accounts for 10% to 15% of Damen's turnover.
People who know Rose Damen say she has endless people skills, a useful trait if you sell superyachts and abide by the old saw that people don't buy superyachts. They buy a lifestyle, they buy emotion. "And Rose really gets that," says the industry insider IBI talked to.
The Damen Group operates in 28 nations, employs 12,000 people, runs 35 yards, builds 200 ships a year. It posted a net loss of €17 million in 2018, the first reported loss in 15 years. The company cited a "sustained period of difficulty in a number of maritime sectors and investments it has made in its future."

"It is important to understand we are a business with very diversified divisions," says Rose Damen. "We'll continue to focus on what we are good at. Our strength is in developing standardised technical platforms."
Damen acquired Amels in 1991. Amels' yachting roots date back to 1918 when Kees Amels started a boat yard in northern Holland. Today, the superyacht maker is the gift that keeps on giving. It has already delivered more than 40 Limited Editions (55m-83m/180ft-272ft) since 2004.
"We have 15 in build now. That's a record," says Rose Damen. Recently, Amels resumed building one-off, full custom yachts. "We have a 77m in build now," says Rose Damen. "We see a lot of repeat clients. People who started out with a 55m Amels yacht and now want a 75 to 80m," says Rose Damen.
"I know I'm not alone," she says when asked what it is like to be a young woman in an industry that remains something of a menfest. "It would be great if we saw more women in this business. My focus for the next two or so years is to create more diversity in our workforce," she adds. "Not just based on men or women, but also on background, character, experience, nationality, etc. Teams become stronger when they are more diverse. Yes, you may initially create friction, but the result is better."
At work, Rose Damen likes to ask "why?" because, she says, "it's important to keep each other challenged and sharp in the organisation." That organisation is unlikely to slip from the Damen grip soon. Chief Operating Officer Arnout Damen is on track to succeed his father Kommer soon. Aged 75, Kommer Damen, chairman of Damen Shipyards Group, has not set a formal retirement date.
"This is a family business and I just love that," says Rose Damen. "It means we can really focus on the long-term. Besides, we have an agreement that none of us of the third generation will sell the company but look after it and hand it over to the next generation."
Damen Shipyards Group | Key Figures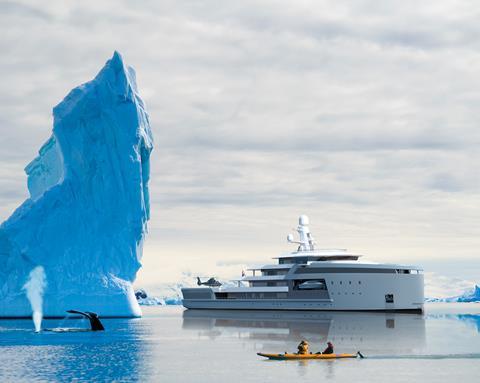 Turnover (2018) : 2.0 billion EUR
Damen Shipyards Group: 54 companies worldwide

The Netherlands: 25
International: 29
Shipyards: 36
Engineering companies: 5
Other companies: 13

Shipyards: 36

The Netherlands: 16
International: 20
Newbuilding yards: 23
Repair and Conversion yards: 18

Employees: 12,000 worldwide

The Netherlands: 3,500
International: 8,500
Included in total staff: 1,000 engineers
Repair & maintenance jobs: 1,300

Delivered ships:

Yearly: >175
In total: >6,500
5 yachts in 2018

IBI's premium information service draws on 50 years of reporting, 30,000 archived articles, and correspondents around the world to provide industry intellegence on established and emerging markets, key companies and industry players, business insights, and essential statistics.