NMMA Canada president honoured as part of Marine Retailers Association of the Americas Dealer Week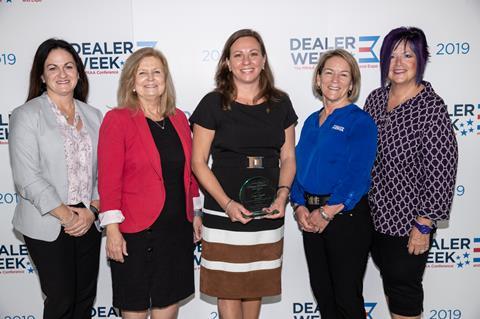 NMMA Canada president Sara Anghel was honoured yesterday as the recipient of the 33rd annual Darlene Briggs Marine Industry Woman of the Year Award.
Presented by 2018 recipient Angela Pilkington, the Darlene Briggs Marine Industry Woman of the Year Award is presented annually to an outstanding woman who demonstrates long and devoted service, untiring commitment and the advancement of women in the marine business. Anghel was honoured at a gala luncheon on Tuesday as part of the Marine Retailers Association of the Americas (MRAA) Dealer Week conference being held in Tampa, Florida.
Anghel joined NMMA Canada in 2008 following several years in the energy industry, serving in a variety of government relations roles. Anghel has gone on to earn international praise as a tireless advocate for the boating industry, serving manufacturers and dealers in Canada, as well as manufacturers in the US who need assistance in matters pertaining to Canada. "Sara's dedication to the boating industry is remarkable," said MRAA Educational Foundation executive director, Natalie Briggs Carlson. "She demonstrates the immense impact one individual can have on an industry across an entire country."
As part of its mission to create a strong and healthy boating industry, MRAA launched the MRAA Educational Foundation in 2004 as a not-for-profit corporation charged with providing financial support for education, training and professional development in the recreational marine trades. For more information or to donate to support the foundation's mission, visit MRAA.com/foundation.