Robert and John Braithwaite recognised for combined career spanning more than 100 years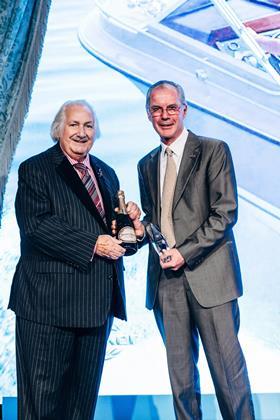 The brothers behind UK boatbuilder Sunseeker International picked up an Outstanding Achievement award at the 2018 Luxury Briefing Awards in London this week. Robert and John Braithwaite were recognised for a combined career spanning more than 100 years.
Robert, who left school at 15, founded the early Sunseeker in 1969 and across more than four decades transformed the brand from a local boat distributor into a globally recognised brand and one of the largest superyacht builders in the world. A true visionary of the luxury marine sector, his entrepreneurial strength drove the sales and marketing success globally, embracing a very public facing role.
When Robert's younger brother John joined the business, he was immediately influential in the engineering and craftsmanship of the iconic Sunseeker designs. Together the pair started producing some of the world's most innovative motoryachts, utilising the latest technologies and cutting-edge design but most importantly, listening to what customers wanted.
John pioneered a new world of boating and was instrumental in the development of many revolutionary models, including the Superhawk, the Predator 108 and more recently, Sunseeker's fastest-selling model of all time, the Manhattan 52.
"This is a phenomenal award and one that both Robert and John richly deserve," says Sunseeker sales director Sean Robertson. "They have contributed so much to the marine industry and what they have achieved is truly remarkable.
"Words alone frankly cannot describe their influence, yet they are always the first to credit our employees and wider 'family'. Sunseeker would not be the global brand it is today if it wasn't for their never-ending passion and vision."