Tim Forderer replaced by founder Mark Drewelow after a year of volunteer service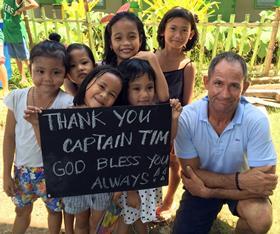 After a year of volunteer service as executive director of superyacht aid organisation YachtAid Global, Tim Forderer has resigned from his post.
For the past year, Forderer has dedicated his time to the organisation as its first-ever full-time volunteer. With the completion of a year of service to YachtAid Global, Forderer will now move on to pursue other opportunities in the sustainability and humanitarian fields.
"The board and entire team is grateful for Tim's service and leadership, and the personal sacrifice he has made to work as a full-time volunteer over the past year," says founder Mark Drewelow, who will now take the reins as executive director.
Forderer has worked with YachtAid Global since its early days, partnering with the organisation on operations globally in his former position as captain of S/Y Vivid. He decided to work with YachtAid Global full-time from late 2017.
"I am hugely grateful for the opportunity to serve the yachting community this past year," says Forderer. "Together we assisted many in need and in doing so we realised the sustainability of yachting is directly related to the health of our oceans and the resilience of the world's coastal communities.
"The yachting community is uniquely positioned to make a positive significant impact on the planet by coming together and putting the appropriate resources behind organisations like YachtAid Global," he adds. "I look forward to continuing my support for YachtAid Global as a worldwide ambassador."
The organisation thanks Forderer for his dedication, expertise and willingness to devote a year of his life to furthering YachtAid Global's cause.