Sebastian Nietupski spoke to IBI and other journalists at this year's Wind & Water boat show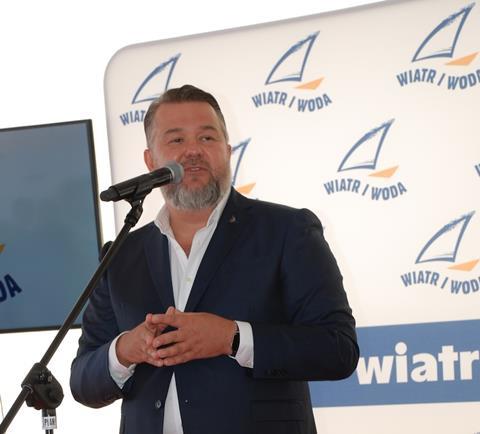 The Wind & Water boat show in Gdynia, on the shores of the Baltic Sea in northern Poland, opened yesterday with 100 exhibitors and 200 boats on land and on water. The show was met with glorious sunny weather coupled with a cool breeze – ideal for the show, which is entirely outdoors.
At an industry briefing on Thursday evening, the president of the Polish Chamber of Marine Industry and Water Sports (Polboat), Sebastian Nietupski, spoke about the current state of the industry.
"Quality is a magic word that we, the Polish boat manufacturers, aspire to. Our objective is to produce the best quality for global markets," he said. "Our product portfolio is growing as our builders produce larger boats. We are now the second largest producer to the USA in the world of outboard motorboats up to 11m in length. Our production reached 22,000 units in 2018, which is the same level achieved in 2008 just before the global financial crisis that affected the boat industry worldwide. Now the average boat size is larger, and we have become a major force in global boatbuilding with current production levels at an all-time high."
Speaking to an invited group of 16 marine journalists and industry experts from China, Hong Kong, the US and the United Arab Emirates, Nietupski went on to discuss the future of the Polish industry.
"We are very keen to expand the industry even further, but have some concerns over workforce availability. Currently we have full order books but expansion for many builders is restricted by the lack of production capability. As an association, we are working on solutions to this issue."
Turning to the domestic Polish market, Nietupski said: "Positive about the steady market growth in Poland, which is absorbing some 5% of the total production, my vision is to expand the local market sector to 30%. This will require considerable investment in Polish boating infrastructure such as marinas and berthing places."
Looking further ahead at growth in Europe, Nietupski said: "The big area of growth in Europe is with catamarans, both power and sail as well as electric-powered boats. We know that the major catamaran manufacturers in Europe have order books full for the next two years."
The show runs until July 21 at Gdynia Marina and is organised by Yacht Expo and Murator Expo in partnership with Żagle magazine. The strategic partner is the City of Gdynia, the sailing capital of Poland.
The main goal of Wind & Water is to promote sailing and watersports while at the same time enabling enthusiasts to evaluate yachts, motorboats and sports equipment in their natural environment.