Canadian boatbuilder named among top job creators for 2017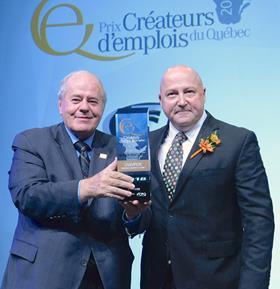 Quebec-based aluminium fishing and pontoon boat manufacturer Princecraft Boats has been recognised as one of the province's leading businesses in terms of job creation.
The company was recognised during the Quebec Job Creator Awards Gala, held in Quebec City last week. Attended by more than 1,000 business leaders and government officials including Quebec premier François Legault, the event celebrated the job creation and training programs of several key employers as determined by an independent jury, based on criteria such as the number of new jobs created, the number of new jobs retained, approaches used to achieve success and sustainable development in job creation.
Princecraft, which employs more than 300 people, added 84 new employees in 2017 as the company effectively doubled its pontoon production volumes. The company is on track to repeat the feat this year, with new job creation for 2018 forecast to exceed 100 new positions.
"Because our company supports local purchases, our growth also has a positive employment impact for our suppliers and the entire region," said Princecraft director of marketing and customer experience, Jean-Philippe Martin-Dubois. "The award honours Princecraft's ongoing efforts to make its workplace both productive and enjoyable and to reward 64 years of building quality fishing and pleasure boats for the entire family."