Line-up set to be further expanded during 2019, following latest METSTRADE launch
VETUS is launching an even more powerful version of its award-winning BOW PRO thruster, the BOW PRO Boosted, at METSTRADE this week. Incorporating an in-house-engineered intelligent motor controller, the new upgraded fully-proportional brushless models deliver all the features of the BOW PRO series with an added boost function to make life easier for more boat owners.
The new six model BOW PRO Boosted 57-130 series of thrusters features an internal charger that enables the thruster to boost output to up to double the voltage. The BOW PRO Boosted thruster can be connected to 12V or 24V power supplies, making it suitable for a range of boats up to about 80ft. When the thruster is not in use, the built-in charger automatically recharges the battery, doubling its value as both a thruster and charger.
As well as connecting to the internal charger, the VETUS motor controller also regulates the maintenance-free induction motors without carbon brushes, a technology break-through that ensures the BOW PRO Boosted thrusters are very quiet with a runtime only limited by the size of the battery pack installed. With almost no loss of power, active heat control and power consumption are very low, VETUS claims.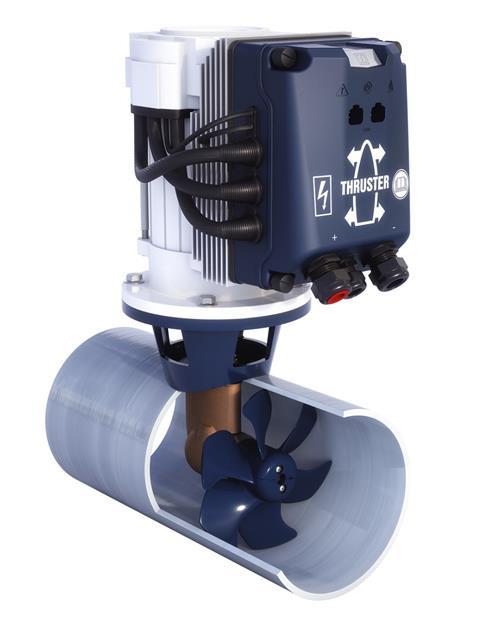 Pieter Feenstra, Senior Sales Manager, VETUS, said: "With the line-up set to be further expanded during 2019, the six new BOW PRO Boosted thrusters are the evolution of the original BOW PRO. By combining features like the unlimited runtime, full-proportional control, built-in charger and no maintenance on the brushless motor, the thrusters are the ideal solution for almost every boat, particularly charter vessels, offering significant advantages when compared with other thrusters.
"Safe and easy to install, the BOW PRO successfully enables performance and efficiency to be optimized as well as increasing power output. The thrusters are suitable as a replacement as they use the same streamlined tailpieces and propellers as many conventional VETUS thrusters."
Operating with CAN-Bus protocol, BOW PRO Boosted thrusters feature a choice of two different control panels – the fully-proportional basic panel (BPPPA) and the fully-proportional panel with local and hold function for easy docking (BPPJA), allowing the boat to be held alongside to pick up or drop off crew or dock single-handed.
The BOW PRO range for 20-55ft boats was introduced last year and picked up an Innovation Award at Miami International Boat Show. All models in the series combine VETUS's electric thruster technology with its extremely quiet RimDrive, to provide near silent operation and precision proportional control.