Over 430 delegates share in strategic discussions for the sailing sector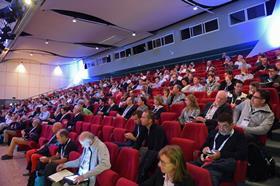 The 10th Yacht Racing Forum, held this year in Lorient, France, attracted a record turnout with over 430 delegates. The forum is a leading annual conference that reviews the sailing yacht market, its business and marketing, and future plans.
During the event, French sailor Loïck Peyron spoke of the link between yacht racing and cruising. "When I'm racing, I'm dreaming about cruising," he said. "When I'm cruising, I don't like to be inefficient. That's why many of our innovations from racing are useful for cruising."
Technology trickledown was a big part of the discussion, with experts from some of the world's most successful boatbuilders and sailmakers explaining the application of America's Cup and offshore innovations to the rest of the sailing scene. Networking, business and the opportunity to talk with some of the sport's big decision-makers was a key reason for attending for many delegates.
Double Olympian and six-time Volvo Ocean Race veteran, Chris Nicholson, gave a keynote in which he called on World Sailing to embrace innovation, and for the rest of the world to take notice of the vibrant and healthy professional racing scene in France.
Charles Caudrelier, winning skipper of the Volvo Ocean Race, and Bruno Dubois, former team manager of Dongfeng Race Team, explained the strength of the French system and laid out a blueprint for other countries to emulate its success.
This year's Design & Technology Symposium attracted a larger attendance than in previous editions, thanks to Lorient being at the centre of French offshore racing technology. There was also strong interest and appreciation for advances in all aspects of yacht and foil design, sensing technologies and performance analyses, modern film-less sailmaking, advances in standing rigging and composite materials, new fabrication and sustainability technologies in all sectors, and where technology is driving and is driven by parameters within the America's Cup, Vendee Globe, Volvo Ocean Race and other elite racing events.
A number of presentations were given on key races such as the global Volvo Ocean Race, the transatlantic Route du Rhum race between St Malo and Guadeloupe, the Classe Ultime competition, and the Class 40 offshore races. The founders of the Star Sailors League also announced a new concept, the Nations Gold Cup, which will bring together 40 teams from 40 nations to compete in a keelboat class measuring somewhere between 45ft-50ft in length.
In regard to marketing and media subjects, Nathalie Quéré, campaign director of Team AkzoNobel, explained the long and challenging process of pitching a sponsorship proposal to a large corporate organisation. Her presentation was packed with useful information for prospective teams and campaigns looking to secure backing from a big multinational.
"Don't pretend you have all the answers straight away," she said. "Don't pretend to be what you're not. Just start an honest conversation and build a relationship from there."
Regarding the Mirabaud Sailing Video Award English producer, Rob Dickinson (Orillo Films) was the overall winner. He submitted a film recounting team AkzoNobel's journey in the Volvo Ocean Race 17-18.
The 11th edition of the Yacht Racing Forum will take place from November 25-26, 2019 in Bilbao, Spain.