Confused about what Brexit means? So are most Britons. British boatbuilders and equipment manufacturers prepare for a 'no deal' scenario.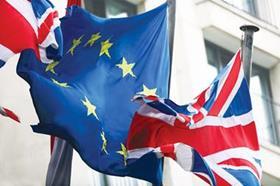 With under 100 days to go now before the United Kingdom is scheduled to withdraw from the European Union, it's still unclear to anyone under what terms the separation will happen. The latest draft proposal negotiated by Prime Minister Theresa May and EU officials has to be voted on in the British Parliament and is widely expected to be rejected by a majority of members when presented to the House of Commons during the week beginning 14 January.
Despite May's insistence that her proposed agreement will be ratified, the Government is simultaneously warning companies to prepare contingency plans for the possibility of a 'No Deal Brexit' – meaning that business could be severely disrupted by border controls and standards issues causing major problems and delays to trade.
In answer to an increasingly frustrated and angry business lobby this week, the British Government set aside two billion pounds to assist front line government departments cope with an unmanaged Brexit and revealed that it will be contacting over 200,000 businesses to try to explain the impact as well as provide 100 pages of updated online advice about possible changes at borders. Certain strategically key industries such as defence, food, pharmaceuticals, etc are reported to have been better informed by the Government and are better prepared with stock piling measures for the probable consequences and immediate aftermath of a chaotic exit. However, until the promised information is available, which is due to be communicated this week, the vast majority of UK companies have still not made plans as what to do in the absence of an EU agreement on terms of trade with Britain.
To highlight the anxiety the country is experiencing, earlier this week it was announced that 3,500 troops would be held in readiness to cope with possible disruption at ports and possible choke points.
European suppliers should expect British boat builders and equipment importers/distributors to build up their inventories of raw materials and components as a precautionary measure to secure production levels until some form of normality is restored – in whatever form an eventual deal is structured.
Commenting on the possibility of the UK leaving the EU without a Withdrawal Agreement and a transition period, Lesley Robinson, chief executive officer at British Marine said, "Like many industries up and down the UK, we do not support the idea of the UK leaving the EU in a 'No Deal' scenario. It is vitally important that our members have stability for their businesses while the UK and EU negotiate the details on the future relationship," she emphasized.
"The transition period agreed as part of the Withdrawal Agreement and Political Statement on the Future Relationship would deliver that stability and afford the UK more time to tackle some of the unanswered concerns of our industry, like the future of VAT-paid status on vessels already placed on the market in the EU," Robinson continued.
"British Marine hopes that members of the UK Parliament can put aside their differences and support the Prime Minister's deal, which does offer security to UK businesses and helps protect jobs, growth and investment."
For those looking for more information specific to the boating industry, British Marine has provided additional resources about Brexit available on its website at the following links:
https://www.britishmarine.co.uk/News/2018/December/Is-a-No-Deal-Brexit-on-the-horizon
https://www.britishmarine.co.uk/News/2018/December/How-to-comply-with-the-Recreational-Craft-Regs-in-a-No-Deal-Brexit-scenario