As the Brexit saga continues, Peters & May's in-house Customs Team took matters into their own hands to help customers understand what to expect under the various scenarios confronting UK builders and manufacturers
Since the British referendum in June of 2016, Peters & May have been ensuring clients are updated about the various scenarios confronting shippers in a post-Brexit environment. With proceedings in Parliament coming to a head this month, the yacht shipping specialist went a step further to organise a 'Brexit & Beyond' conference. Inviting both clients and those within the freight forwarding industry looking for Brexit-related customs advice, the company said the seminar had a good turnout among representatives across the industry.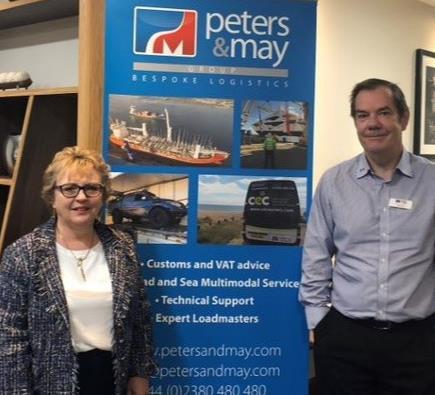 Morning and afternoon sessions were hosted by in-house Customs & VAT Manager Simon Beck alongside newly appointed Customs Advisor Denise Hill, CEO David Holley and UK General Manager Paul Everley. Covering Brexit 'No Deal' Implications, Transitional Special Procedures and the Customs Declaration Service, attendees then had the opportunity to ask any questions and discuss their concerns.
Simon Beck commented on the success of the event, "This topic is something that needs a lot of discussion." After offering our advice, highlighting considerations for clients and guiding them through next steps," continued Beck, "it was great to see attendees discussing and sharing ideas on the various approaches in response to ongoing Brexit developments".
Mark Garside, Transport Manager at Sunseeker International Limited attended the seminar, offering his thoughts: "Simon and his team did a great job approaching a topic that is daunting for many people within the industry. They did a brilliant job and were very knowledgeable on the subject. The seminar was informative and well worth us attending".
Whatever outcome is decided, Peters & May is urging clients to get in contact with its team of experts for ongoing advice and support.
BREXIT LATEST
On 21 March, the leaders of 27 EU countries agreed to delay the UK's March 29th Brexit date until May 22nd, provided Britian's Parliament approves Prime Minister May's Brexit deal by 29 March.
If British lawmakers reject the deal, the UK will have until 12 April to decide between "no deal", revoking Article 50, or seeking a longer Brexit delay.
The Economist Intelligence Unit is predicting that May's deal "has a slim chance of being approved by the UK parliament."