Barton Marine CEO outlines the impact Brexit will have on her company for BBC television show
UK-based Barton Marine and its CEO Suzanne Blaustone will appear on BBC television's respected current affairs show, Panorama, which is investigating the prospective impact of Brexit on British companies.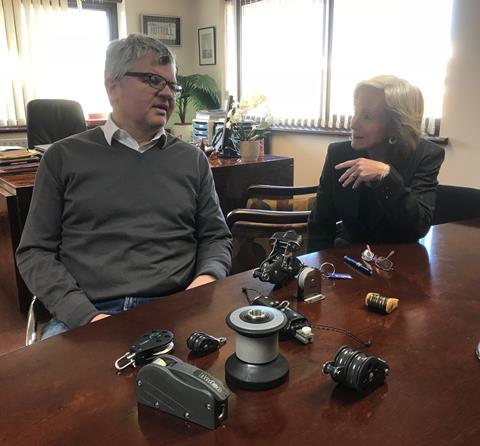 Founded in 1948, Barton is a well-established manufacturer of rigging and deck equipment supplying distributors across 32 countries. A long-time proponent of British Marine export initiatives, the company attended METSTRADE the first time in 1988 and subsequently won the Dame innovation award in 2004.
Blaustone articulated the company's position on Brexit and the consequences for the business if the agreement includes withdrawal from the EU Customs Union.
"Barton Marine remains fully supportive of Parliament producing their best possible deal that retains the Customs Union so that our export markets are not impaired and we retain a competitive playing field with our global competitors," stated Barton. "We consider our home markets to include our European distributors, customers and suppliers, but like many other companies, if the UK leaves the Customs Union, Barton will be forced to incorporate and open a facility in Europe – moving jobs and wealth out of the UK – which is certainly not what Leave or Remain voters wanted," she continued.
"We hope that any Brexit deal Parliament puts forward will be brought back to the democratic process to allow UK citizens to vote for the deal with full understanding of its implications and effects - or to retain our relationship in Europe for the greater good of the UK."
The story featuring Barton Marine and other UK companies will air on BBC 1, next Monday, 4 February.
In the meantime, the UK awaits the results of yet another round of political jockeying in Parliament this evening while MPs vote on several amendments which could have a range of outcomes on current negotiations including: further derailment of the Prime Minister's existing agreement with the EU, a messy 'no-deal' exit, a second referendum on Brexit, or an extension of the 29 March deadline for withdrawal which could leave the deal unresolved for up to two more years.
Commentators seem to think the latter outcome is most likely tonight, but one thing is clear – the uncertainty for UK companies and their partners in Europe will not be over any time soon.