Consultation period for potential amendments to safety device regulations concludes May 17
The Canadian government is soliciting industry input as it works toward establishing new standards for pleasure craft safety equipment, including potential changes to regulations concerning the use of personal flotation devices (PFDs) and electronic signal flares.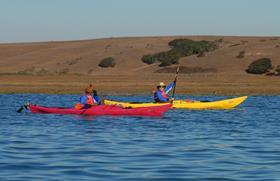 Transport Canada (TC), which regulates boating activities in Canada, is currently reviewing the benefits and risks of establishing new safety standards for Level 50 buoyancy aids in an effort to increase the wear of personal flotation devices (PFDs) among boaters participating in near-shore activities such as canoeing and kayaking. Current regulations require near-shore boaters to have a PFD in possession, but do not require that it be worn – a loophole that results in most devices being used as seat cushions or simply stowed. Level 50 devices, which have been in widespread use in Europe for more than 20 years, are generally accepted to be less bulky and far more comfortable than the Level 70 devices currently required, but are not presently approved for use in Canadian waters.
As part of the same review, TC is also examining the potential approval of youth inflatable PFDs designed for individuals under the age of 16. Under current regulations, inflatable PFDs are only approved in Canada for adult use, in spite of widespread recognition that the products are more comfortable to wear and more likely to be actually used.
Further industry consultation is being sought as part of a separate, ongoing review of electronic signaling devices that could be used as an alternative to traditional pyrotechnic flares. TC is presently reviewing a new industry standard for electronic signaling devices recently published by the Arlington, Virginia-based Radio Technical Commission for Maritime Services, with a view toward approving the devices for use in Canadian waters. Electronic signaling devices are said to reduce the storage and disposal challenges currently faced by boaters now required to carry flares on their boats, since they do not expire and do not generate extreme heat when deployed.
Additional details on the equipment reviews and details on submitting comment can be found on the Transport Canada website
The consultation period closes on May 17, 2019.