Last year's accident in Cape Town harbour prompted public concerns about the safety protocols in place for marine tourism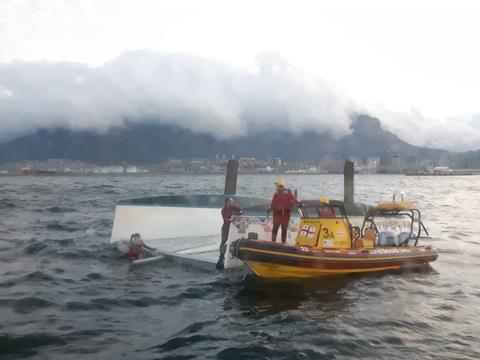 Human error was to blame for a leisure catamaran accident outside Cape Town harbour late last year involving five British tourists, according to a provisional South African Maritime Safety Authority (SAMSA) accident report.
The incident made news headlines in South Africa due partly to the dramatic rescue of one of the tourists who was trapped under the upturned boat, the 39ft Escape Cat. It also prompted public concerns about the safety protocols in place for maritime tourism.
"The root cause is that the skipper had too much sail up in the prevailing weather conditions – human error," SAMSA said in a statement. "The investigation report is in the process of being finalised. The structure/build of the vessel is not in question at all."
The accident happened in the late afternoon during one of Cape Town's notorious summer south-easter gales when wind squalls often affect port operations and prevent cruise liners from docking at the cruise terminal.
One of the tourists suffered a fractured shoulder and the others were treated for bruises and hypothermia, including a woman trapped in the galley with water rising around her. She was rescued by the skipper.
The accident prompted a call for investigators to also probe safety protocols in place for the leisure boating sector. Beverley Schäfer, Western Cape Minister of Economic Opportunities, said the probe was needed "so that we are assured that all standard operating procedures and safety precautions were undertaken during the trip."
It is unclear whether SAMSA will include any safety protocol findings in their final accident report.