Proposed 10% luxury tax on boats over $100,000 widely expected to kill jobs and cause significant damage to Canada's $10bn leisure boating industry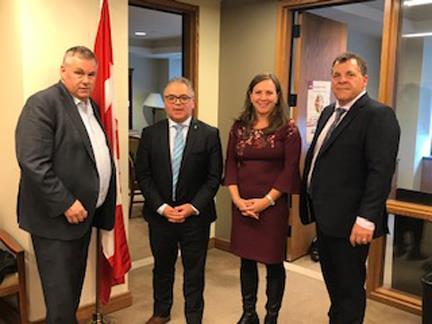 Representatives from NMMA Canada and regional boating trade associations nationwide descended on the Canadian national capital on Thursday in a coordinated lobbying effort aimed at convincing legislators to rethink a proposed 10% luxury tax on boats of more than $100,000.
The luxury tax was announced last autumn as part of the incumbent Liberal government's re-election platform. Returned to power with a minority government in October, Justin Trudeau's Liberals are scheduled to introduce the 10% luxury tax on the sale of all boats, automobile and aircraft valued at over $100,000 with the 2020 budget, scheduled to be tabled on March 18.
Delegates from the Canadian marine industry delegation met with a large number of senior policy makers and members of parliament on Thursday to discuss how previous attempts to implement similar taxes in other countries have consistently led to significant job losses and lower overall tax revenues. NMMA Canada president Sara Anghel notes that a similar luxury tax on boats of over $100,000 introduced in the US in 1990 lead to widespread job losses.
"The US government imposed a very similar luxury tax on boats in 1990 and projected $36m in revenues," noted Anghel. "In the end, the tax was repealed – but not before gutting thousands of jobs in the boating industry and resulting in a net loss of $8m due to unemployment insurance claims and lost tax revenues."
With an estimated 44% of boats sold in Canada estimated to retail at prices above the $100,000 threshold, the potential for job losses among Canadian boat dealers, marinas and service businesses could be substantial. Anghel notes that wealthy consumers will simply shift spending to other market sectors exempted from the tax – luxury campers being one example – or simply buy their boats from dealers in the US. With more than 70% of Canada's population living within 100km of the US border, the potential for the luxury tax to lead to a surge in cross-border shopping is considerable.
The marine industry delegation descending on Ottawa this week requested meetings with more than 200 parliamentarians in its most intense lobbying effort to date. The group, which normally lobbies parliamentarians in May, moved its seventh annual Recreational Boating Day on Parliament Hill event forward to late February in the hope of convincing the government to rethink its luxury tax scheme before the 2020 budget is finalised.
"Our position is that luxury taxes have failed all over the world including the United States, Italy, Norway and New Zealand, as consumers simply diverted their spending to other forms of recreation and the governments ultimately collected less net tax," says Anghel. "Our ask is that recreational boats that bring families together, just like other recreational vehicles, be excluded from this proposal."