Newly announced agreement will reduce paperwork for NMMA-certified builders shipping product to the Canadian market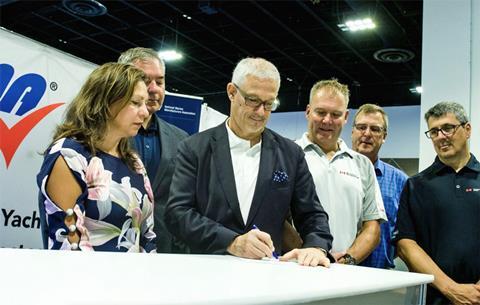 The National Marine Manufacturers Association (NMMA) has entered into a Memorandum of Understanding (MOU) with the Canadian government which will reduce paperwork for manufacturers exporting boats to Canada.
The newly-announced MOU with Transport Canada aims to streamline the importation process by allowing NMMA-certified boat and yacht builders to ship product to Canadian dealers supported by proof of their NMMA certification along with an abbreviated Declaration of Conformity (DoC) document. This will replace the existing procedure where boatbuilders must ensure product is built to Transport Canada's own TP 1332 standard and follow an extensive DoC process to demonstrate the model's compliance.
An ensuing systematic review by Transport Canada prior to approval has also been dropped.
As part of the new agreement Canada will now accept American Boat and Yacht Council (ABYC) standards in lieu of the existing TP 1332 Construction Standards for Small Vessels.
"After working closely together for many years, we are very pleased to have reached this MOU with Transport Canada," said NMMA Canada president, Sara Anghel. "The new process will provide a more harmonious transaction of boats and yachts across North America."
Implementation of the new procedures as outlined in the new MOU are expected to begin in spring 2020, with further details to be announced in the coming weeks. US boat manufacturers will still be required to submit annual production reports to Canada.
"This is a tremendous recognition of NMMA-certified boatbuilders and their dedication to product safety," said NMMA senior vice president Robert Newsome. "NMMA certified builders are able to thoroughly demonstrate their compliance to ABYC standards, and this will soon mean an easier path to sales opportunities in Canada."