Court of Appeal decision means Orion and Smuggler Marine can resume production of their amphibious vessels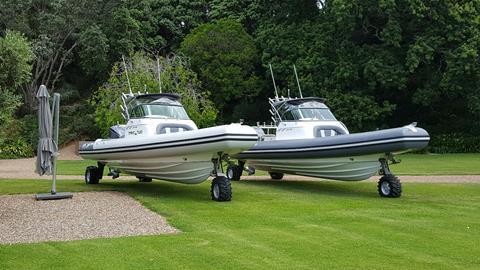 NZ boatbuilders Orion and Smuggler Marine have resumed production of their amphibious boats following a Court of Appeal decision last month that Sealegs had previously won in order to stop them from making amphibious vessels.
Orion, established in 2012, successfully appealed the High Court decision that it breached Sealegs' copyright over the design of the wheel assemblies. Essentially this decision stopped the production of the Orion product and since that time Smuggler has not been allowed to build amphibious boats using the Orion system. That has now been overturned and it's business as usual again.
The directors of Smuggler Marine, David and Pauline Pringle, along with Orion manager Darren Leybourne also acknowledge the support of the many NZ Marine Industry member companies who have stuck by them in what has been a long and tough battle to provide the New Zealand boating community with the choices they are entitled to.
"The court's decision has supported our view that Orion's amphibious technology is different to anything else currently available, and this is what the case was all about.
"With this now settled, we will be contacting the long list of people both in NZ and overseas who have been waiting for up to three years to put in their order for an amphibious Smuggler boat with an Orion system, and we will return to building amphibious boats immediately."
The first new model out of the Smuggler factory in Henderson will be the Strata 800 hardtop powered by a 250hp Yamaha.
Future Mobility Solutions (FMS), the holding company for Sealegs, said it was considering seeking leave to appeal to the Supreme Court and a further announcement would be made once legal advice has been considered.