New figures from the US Commerce Department undermine Trump tariff claims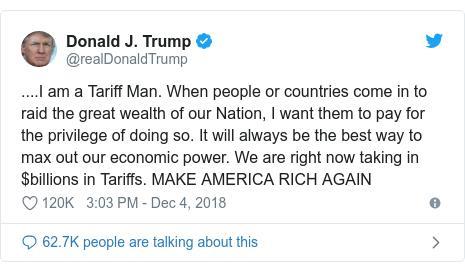 New figures released Wednesday by the US Commerce Department show the US trade deficit jumped by nearly 19% in December, reaching a 10-year high of US$621bn for 2018.
The news raises questions about the effectiveness of president Donald Trump's widely-criticised approach to reducing the trade imbalance through the application of tariffs. Trump, who described himself as "Tariff Man" in a December tweet, began implementing tariffs on imported steel and aluminium in mid-2018 citing national security concerns, and has since expanded the tariffs to cover a wide range of commercial and consumer goods.
In spite of those measures, the gap between US exports and imports rose to a record $59.8bn in December, up from $50.3bn the month before. On an annual basis, the US marked record-high imports from 60 different countries in 2018, led by China, Mexico and Germany. Imports of all goods reached a record level of $2.6tr last year and drove the trade gap to the highest level since 2008 when it was $708.7bn – an imbalance that corrected in the aftermath of the 2008 financial crisis as the US plunged into a severe recession.
Ironically, Trump's new tariffs may have unwittingly contributed to driving trade deficits. Tax cuts are credited with driving consumer spending in 2018, leading Americans to accelerate purchases of foreign goods before the tariffs took effect.