Company owner thanks workers at special ceremony
The winning of over 30 orders by the leading Australian luxury yacht builder, Riviera, at two recent shows has led to an appreciation lunch for more than 600 team members hosted by the owner Rodney Longhurst. The shows where the orders were secured were the Sanctuary Cove International Boat Show held in May and the Sydney International Boat show held at the beginning of this month.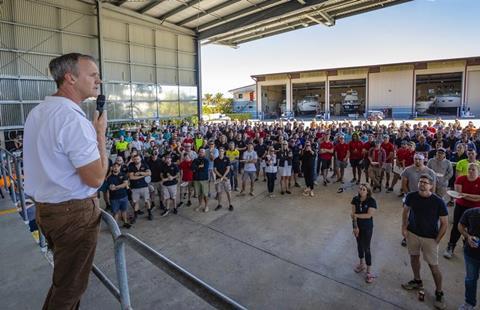 The outstanding result from the two shows, where Riviera had its largest display of new motor yachts, saw new and experienced boaters from Australia and New Zealand purchase models across the Riviera five-model range from the 395 SUV to the 72 Sports Motor Yacht.
The company's latest models, including the new Platinum Edition Sport Yachts proved popular, with multiple orders for each of the three models – 6000, 5400 and new 4800 Series II - while fellow premieres – the 54 Enclosed Flybridge and 545 SUV – also resulted in a number of contracts.
Longhurst said: "The great acceptance of Riviera motoryachts at these two recent shows was a true credit to the hundreds of highly-skilled men and women who take so much pride in creating beautiful boats for our owners supported with exceptional care and service. These recent boat show purchases are in addition to the more than 70 motor yachts the company has delivered so far this year."
He added: "I am constantly asked the secret of Riviera's success and I believe it's the culture of care we have in our team. Whether a team member works in the lamination or timber departments, administration or design, they have a collective desire to perform at the highest level every day and work together to create something very special."
He pointed out that the key focus of the company in its manufacturing was world-class quality and attention to detail. "It continues well after the launching of our boats when we ensure our owners receive ongoing care and boating education and enjoy exclusive and wonderful experiences on the water with fellow Riviera owners."
Longhurst emphasised: "We don't normally announce publicly any of our results, however, I wanted to share our achievements at the Sanctuary Cove and Sydney International Boat Shows with our entire team as they all deserve applause for the role they have played in delivering outstanding yachts and customer care."
Riviera's models range from just under A$1m to more than A$5m. The two boat shows saw collective purchases valued in the tens of millions of dollars and attracted buyers from New South Wales, Queensland, Victoria, Western Australia and New Zealand.
Riviera also announced the production of two future models at the shows - the new 505 SUV and its acclaimed Sports Motor Yacht in a striking new 64-foot design - with both receiving immediate orders ahead of their 2020 premieres.