Club Mykonos marina is one of several objectors to the aquaculture plan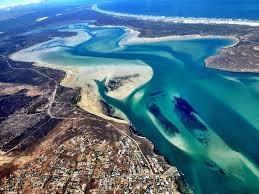 A South African government decision to allow industrial aquaculture inside one of the country's top recreational boating areas has prompted a court challenge from affected residents and watersports enthusiasts.
Last year South Africa's former Environmental Affairs Minister Edna Molewa authorised a plan to establish fish farms at the mouth of the Langebaan Lagoon about one hour north of Cape Town on the west coast.
Molewa, who subsequently died following complications from Legionnaires' disease, granted environmental authorisation despite strident opposition from civil society group Save Langebaan Lagoon (SLL). The group has now announced they plan to challenge the Minister's decision in the Cape High Court.
"Save Langebaan Lagoon is launching a colossal bid to save the pristine Langebaan lagoon from commercial fish farming that is set to destroy this treasured jewel of the west coast," the group said in a statement last month. "The Langebaan Lagoon was designated as a wetland of international importance by the Ramsar Convention on the 25th April 1988, in recognition of its immense biodiversity value," the group said.
Langebaan lagoon is one of the country's top sailing training grounds and a popular recreational site for sailors, fishermen and kite-surfers. It also used to be a popular overnight stopover for luxury boats in search of shelter along the country's west coast, until that was outlawed to make way for another commercial venture – a houseboat concession at Kraalbaai on the western shore of the lagoon.
The privately owned Club Mykonos marina is one of several objectors to the aquaculture plan. The RYA-accredited Ocean Sailing Academy has also raised concerns that aquaculture farming, ostensibly aimed at assisting government's job-creation programme, would in fact be counter-productive by damaging local business and tourism. Ocean Sailing director Chris Roberts previously told IBI that Langebaan was a key training site for Ocean Sailing Academy, which attracts students from across the globe.
Save Langebaan Lagoon, which has been fighting commercial development inside the lagoon for three years, has to date registered over 20,000 signatures on a petition submitted to government. They have also raised funds to assist with their court challenge.