New models, investment and product series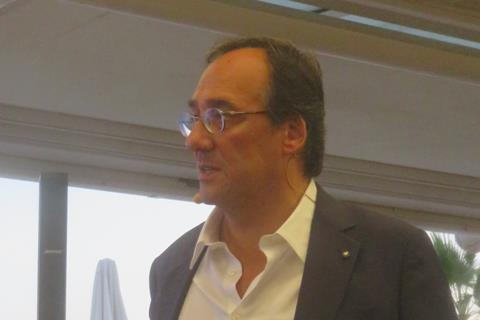 To reach 60 years is an achievement for any business in the yacht market, but to do so in the manner of Italian superyacht builder Sanlorenzo sets a challenge for any competitor.
In 2018, its 60th anniversary, the group is pursuing a steady expansion path that comprises substantial facility investment, an ongoing flow of new models, and the launch of new brands under the Sanlorenzo umbrella.
Such was the content of the group's annual press conference at the Cannes Yachting Festival today, as presented by Massimo Perotti, chairman and CEO. He started by showing that the group's anticipated sales volume is estimated to reach €338m in 2018 compared with €301m in 2017.
A key development in the company's ongoing financial performance was that in June this year the backlog order book reached nearly €500m. The €497m total was made up as follows:
production for the SL Yacht division rose 40% between 2017 and 2018 from €122m to €171m
the following year's production rose 258% from €32m to €113m
the Superyacht Division's current year production rose 44% from €55m to €79
the Superyacht Division's following year's production rose 26% from €111m to €125m
the new Bluegame models added €9m
In terms of sales by region, there were some significant changes:
Sales area:
EU 56% (2017), 65% (2018)
AMAS 21% (2017), 12% (2018)
MEA 14% (2017), 8% (2018)
APAC 9% (2017), 15% (2018)
Over the past few years the Sanlorenzo workforce has grown consistently and it now totals 450 as direct employees and 1,200 contractors.
The increasing strength of Sanlorenzo's balance sheet has allowed it to maintain a strong investment programme covering both product development and facilities investment. This means that €80m will be invested through 2018-19 and €100m through 2018-20. This programme is as follows:
Infrastructure €27.7m (2018), €26.8m (2019), €4.8m (2020), €7.4m (2021), €1.8m (2022)
Product development €10.7m (2018), €12.1m (2019), €12.5m (2020), €12m (2021), €11.1m (2022)
Marketing/IT/R&D €2.1m (2018), €0.8m (2019), €0.8m (2020), €0.8m (2021), €0.8m (2022)
The figures for 2018 are forecast while those for the other years are best projections. Over the 2018-20 period the investment programme breaks down with 52% being spent on new facilities, 42% on product development and 6% on R&D.
As to facilities, once the current investment programme is completed the group will have four facilities as follows:
La Spezia – Superyacht Division with 50,000sq m, of which half is covered
Ameglia – Yacht Division with yachts up to 100ft, a 75,000sq m total area, of which 30,000sq m is covered
Massa – This facility handles lamination for Viareggio production and it is the New Models Centre. It extends to 30,000sq m, of which 18,500sq m will be covered
Viareggio – Yacht Divivison handling yachts over 100ft. Total yard area 22,000sq m, of which 16,000sq m is covered
To expand its facilities, Sanlorenzo has taken over sheds previously owned by FIPA Group in Massa and Viareggio. The huge investment being made in new facilities will include a mix of new and upgraded sheds and renovated offices and other support areas. In Ameglia the marina facilities which handle both new builds and refit yachts will also be improved.
In terms of models, for the Yacht Division four new models are either appearing in CYF 2018 or CYF 2019. The former includes the SX76, which is the smaller sister of the successful SX88 launched last year and the SL102 Asymmetric, the first model in this new series. For CYF 2019, the SD96 (semi-displacement) and SL 92 Asymmetric will be shown.
For the Superyacht Division, the Steel 56 and Steel 64/68 models are being built and will be launched at Monaco.
As part of the Sanlorenzo's expansion, the group has acquired a majority stake in Bluegame Yachts which is a builder of sports yachts and Ferruccio Rossi is the CEO. At Cannes the first two Bluegame models, the BG42 and the BG62, are having their world premieres. So far seven BG42s and four BG62s have been ordered.
The aim for Bluegame within the SL group is that it will cater for the 40ft-70ft sector, while SL will not build any yacht smaller then 76ft-78ft. A new Bluegame model, the BGX70, is being developed for debuting in 2019. In 2020 a BGX60 will be introduced, followed by the BGX50 and the BG52 in 2021.
In another development, Sanlorenzo has launched a new Academy which will train crew for working on SL yachts. In October this year, the first 72 students will start a one-year course and they will be available to be hired in October 2019.
In one final new development, Sanlorenzo's Yacht Division will over the next three years launch the new SLS Sport) range which will join the existing SL, SD and SX series. The Superyacht Division has four ranges – namely, the Fast Displacement, Displacement, Explorer and Emotion.
The new SLS line will introduce six models with the SLS90 and SLS96 in 2021, the SLS105 and SLS110 in 2022, and the SLS 120 and SLS 125 in 20