Boatbuilder encourages students to pursue careers in manufacturing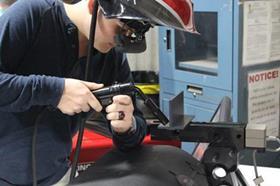 Arkansas-based SeaArk Boats recently hosted approximately 30 students from the Southeast Arkansas Community Based Education Center in a career day program aimed at touting the benefits of a career in boatbuilding.
The career day program provided an introduction to how the company builds its welded aluminium boats, followed by a comprehensive tour of the facility. Students were able to speak with plant employees and learn first-hand about career opportunities in the boatbuilding industry. Students were then able to try out their welding skills on a virtual welding machine, and learn more about the types of work available.
"We encourage vocational education in schools that teach honourable trades such as welding and construction," said SeaArk president, Steve Henderson. "We always value the opportunity for young adults to tour our facility. SeaArk is proud of the products that are built and love to collaborate with potential new team members or future customers."
The Southeast Arkansas Community Based Education Center partners with a number of local schools to provide additional education opportunities for students and young adults in several programs of study, including welding and computer engineering.