Minimal impact so far but longer lock downs could prove challenging
Sunseeker's Italian CEO Andrea Frabetti has told IBI that the impact so far on Sunseeker's daily operations resulting from the COVID-19 outbreak has been minimal. According to Frabetti, the builder has activated all the health protocols and preventive measures required by the UK government and some more preventive measures to protect its workers, suppliers and visits by customers with a protocol already widespread in all production units and all offices and shared with all workers.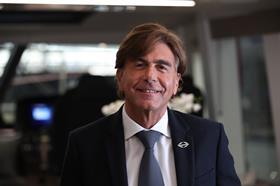 Frabetti says Sunseeker is not thinking of locking down the yard but will do so immediately if government advice changes in the coming days.
"We've not been negatively impacted yet, but the way the situation is escalating in France and Germany we think it a real possibility that the lock downs will spread to those countries too. We purchase quite a few supplies from these three countries so potentially we will be affected."
However, Frabetti said that because of the vertically integrated nature of the Sunseeker set-up it was shielded to some extent from short-term disruption on the continent. "We produce around 95% of our fibreglass, 70% of our wood work and electricals – we're not producing engines, props, gangways… although 75% of our props come from the immediate area (Southampton and Plymouth)… so we will eventually begin to feel it, but we can sustain our situation if the lock downs in Italy and potentially in France and Germany, remain relatively short at 2-3 weeks. If that is the case then the long-term impact will be zero."
Frabetti said the builder had seen no fall in demand, though was conscious there could be a negative knock-on effect of owners of businesses in lock down areas losing confidence and potentially thinking twice about spending on luxury products. The CEO was able to confirm that so far they had received no order cancellations (including sales made to a number of Italians at Dusseldorf), and that it was still selling a lot of boats outside of Europe. "The postponement of the Dubai show was not good," he added, "but customers are still ordering boats."
Frabetti echoed the growing concern that the impact of the Coronavirus globally could fuel a full-blown financial crisis akin to 2008-9. "I hope it will not happen. It shouldn't happen as they are two different things, different circumstances. The Italian government is helping firms in lockdown, that should help reduce the economic impact of the disaster. If the lock downs happen for just 2 weeks, and everyone is ready and eager to restart this will have zero impact. We could even see a surge in business afterwards. Longer lockdowns, say of three months, that would be a lot more challenging."
In a positive note Frabetti observed that locally, despite the lock downs, marinas in the area had been much more busy than usual for this time of year. "It's the notion of the boat as being a private, safe and attractive haven for people. The boat remains a healthy and familar way of doing sports even in difficult times."