German naval architect develops 'Great Bubble Barrier' 
In a global first, an environmental project has been launched in the Port of Amsterdam that uses a curtain of rising air bubbles to trap plastic waste preventing it from reaching the North Sea.
The bubbles stop plastics, but not fish, ships or recreational boats.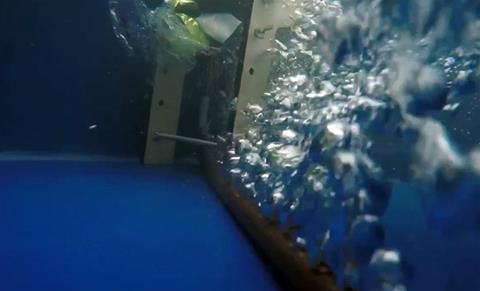 "We have invented and developed an elegant solution that allows us to stop plastic pollution from entering our oceans," says Philip Ehrhorn, a German naval architect.
He developed the 'Great Bubble Barrier' with several Dutch environmental activists, attracting funding from the government and a €500,000 award from the Dutch Postal Code Lottery.
The 14-strong, Amsterdam startup pumps air through a tube with holes placed on the riverbed. This creates a curtain of rising bubbles which brings waste to the surface. By placing it diagonally across a waterway, the natural current guides the plastic to a riverbank for collection.
The 'Great Bubble Barrier' startup is unrelated to the Rotterdam-based Ocean Cleanup project that is deploying floating arms in the Pacific to trap plastic revolving in huge ocean gyres.
Tests by researchers and the Dutch water management board have shown the Great Bubble Barrier system can divert more than 80% of flotsam.
Recently, a barrier was laid in an Amsterdam waterway where it will be in operation for at least three years. The dock disgorges some of the water from the canals of Amsterdam that is headed for the North Sea.
"More than two-thirds of plastics in the ocean comes from rivers and canals," says Ehrhorn. "You can't put a physical barrier in a canal. It has to be open for wildlife and recreation."
The bubble screen is easily scalable, raises oxygen levels in a waterway and prevents the buildup of algae growth. While it removes plastic larger than 1mm, the Great Bubble Barrier team's next challenge is finding out if it also intercepts microplastics.
It's estimated that annually some 8 million tons of plastic ends up in the world's oceans.