Builder announces new Adventure Syndicate offering access to a multi-year cruising program
Arksen has launched the Arksen Adventure Syndicate; a club via which members enjoy shared ownership of one of Arksen's vessels and full access to their experiences on offer. The firm describes the new concept as a "real game changer", providing the ultimate adventure for families through access to a multi-year cruising program, which includes the great explorer routes used by Cook, Nansen, Scott, Cousteau and Tilman. All can be explored, claims Arksen, with reduced impact on the environment, whilst offering the opportunity for members to participate in projects that help to better understand and conserve the world's oceans.
It has been a year since Arksen first launched at the 2019 Düsseldorf Boat Show and the team return to the show in 2020 to offer the first opportunity to sign up to the new program (Hall 7a, stand B24).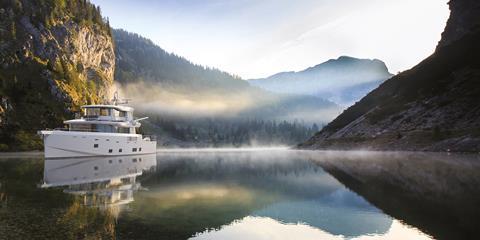 Arksen aims for its new sharing economy approach to encourage more mindful explorations and collaborations between owners, scientists, ocean advocates and activists.
The program offers all the benefits of owning a vessel; the opportunity to discover and explore new destinations, long periods of utilisation, fully-equipped, maintained and crewed, all at a significantly lower cost and without the commitment of full ownership.
The offer is available across two family-friendly production vessels, the Arksen 70 - which accommodates seven guests in three cabins - and the Arksen 85 – which accommodates 10 guests in four cabins.
Each vessel is purpose-built, functional and versatile and built to Arksen's 'Explorers' Specification' to suit leisure, research and commercial voyages. They are designed and constructed on the South Coast of England in collaboration with Humphreys Yacht Design and Wight Shipyard, one of Europe's leading commercial and superyacht ship builders.
Best practices for procurement, manufacturing efficiency and life cycle thinking have been embedded into the design and construction, with aluminium used in the hull due to its ability to being infinitely recyclable.
Jasper Smith, Entrepreneur and Founder of Arksen commented, "Arksen has always been about offering our community new experiences and the chance to embark on life-enhancing adventures and we want to make these opportunities as widely available as we can. The Arksen Adventure Syndicate has been designed very much with families in mind and our aim is to provide everything they need to embark on a remarkable journey together.
"By creating a fully managed syndicate around a vessel, we are essentially offering all the 'good bits' without the hassle and frustration of paying to own all of a boat that you may not be able to make full use of. We aim to enable more people to explore now and discover new destinations, whilst sharing our passion and continued support to save our oceans."
Members combine to buy the vessel, which is then managed by a professional crew and made available for the member's use in proportion to their share of ownership. Twenty-five weeks per year will be allocated across all co-owners and the vessels will operate in a specified cruising ground: Europe, the Americas, Asia and Global. Members from a syndicate can swap weeks in one cruising area for another, so they will not be limited to the location of the boat they own. The logistics and support will be provided by the Arksen Explorers' Club.
Each vessel within the syndicate makes the 10% for the Ocean pledge, donating 10% of its operating time to scientific work, and the syndicate members are encouraged to be actively involved. Members will also have the support of the Arksen Explorers' Club, who can provide logistical, administrative and operational support and the chance to join the Arksen Explorers Rally, an epic cruising adventure open to those with a suitable vessel.