Australian builder says it intends to push the boundaries further by augmenting its vessels with combinations of the latest in environmentally conscious power sources, power storage, propulsion, equipment and construction material technologies
Australian superyacht newbuild and refit specialist Echo Yachts has declared that from now onward it will be focusing all of its new product development efforts on advanced engineered, ecologically focused superyachts for like-minded clients. The catalyst, says Echo, for embracing this strategic direction is the success of its most recent 84m diesel-electric trimaran superyacht delivery White Rabbit, and what it says has been the large amount of positive feedback on the platform from the industry and owners, combined with what Echo claims are its clear environmental gains and running cost improvements delivered.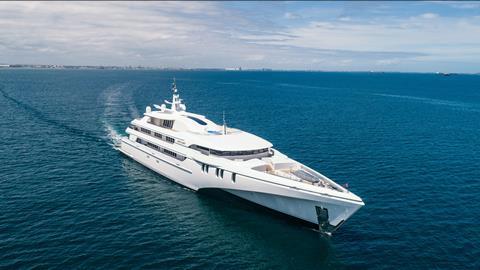 White Rabbit has, according to Echo, been recognised for its super-efficient tri-hull form and unique propulsion system arrangement that provides ~40% power and fuel efficiency gains, compared to conventional monohull superyachts of similar GT volume, speed and range.
Echo Yachts says it intends to push the boundaries further by augmenting its vessels with combinations of the latest in environmentally conscious power sources, power storage, propulsion, equipment and construction material technologies. Company Owner and CEO Mark Stothard explains that: "Echo Yachts will always custom design and build to suit each client's requirements, but moving forward will be focussing our efforts on new superyacht designs that utilize technologically advanced and sustainable solutions first and foremost. There are no good reasons for our industry to keep perpetuating outdated technologies and hull designs of the past. Simply doing so because that is what has always been done is no longer the way and certainly not best-practice. If we are going to promote new products then let's promote the best possible, pull up the anchors and drive our industry forward swiftly! Our industry like many others has a responsibility to our environment and future generations to embrace the latest available technology and evolve it further along at every opportunity - for the sake of reducing waste of material resources, reducing pollution and reducing spend on running costs so money can be better invested elsewhere. So we are putting the call out far and wide: If you are a supplier of new innovative green-tech solutions for our superyacht projects, if you are a superyacht captain or broker with good ideas and suggestions you'd like to see achieved, or if you are a superyacht owner looking to step away from the old usual and into new super-efficient superyachts that will really turn heads, then we encourage you to reach out and speak with us directly!"