Volvo Penta continues to expand its testing of HVO fuel which can reduce fossil CO2 emissions by up to 90%
The European Commission used this year's Boot Düsseldorf to brief the global boating industry on its strategy to make the 27-nation EU climate-neutral by 2050. Such an ambitious goal will need the boat industry to play its part and Volvo Penta is taking a lead in its drive to be a world leader in sustainable power solutions. Electromobility is one way forward and an area Volvo Penta is exploring, another is the use of renewable fuel sources.
In 2016, Volvo Penta announced the approval of HVO (hydro-treated vegetable oil) fuel – neat or blended with conventional diesel – in all of its diesel engines globally. HVO is a renewable, paraffinic fuel, also known as 'synthetic diesel', which can be produced from a variety of vegetable and animal sources. It follows the preliminary CEN standard, prEN15940, for use in diesel engines.
As well as reducing CO2 emissions – up to 90% depending on the feedstock used in production – it also results in a substantial reduction of soot and is sulphur free, when compared to most conventional diesel fuels. HVO is a stable fuel, which does not require any engine modifications or maintenance. However, it cannot be produced in unlimited quantities and only a limited amount is produced in a sustainable way today, which presents an industry wide challenge.
As one way to test and learn, Volvo Penta is now working to establish a long-term agreement for use of HVO fuel with its demo boats at Krossholmen, its Gothenburg-based test facility. The intention is for its demo boats to be run on HVO when taking customers out and performing certain tests – accounting for at least half of the total driving being done on HVO. In a typical year, the facility can rack up over 4,000 hours of testing time and cover around 40,000 nautical miles on the water.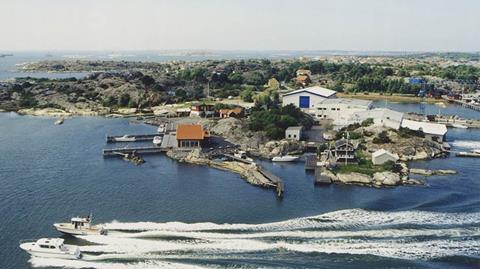 Profile: Volvo Penta Test Facility
Situated in an enclave near the mouth of Sweden's Göta Älv River, the Krossholmen Test Center is Volvo Penta's primary marine leisure testing facility – purported to be the largest and best-equipped facility of its kind in Europe.
With more than 20 technicians and engineers working on as many as 30 test and demo boats at any one time, Krossholmen is active throughout the year.
Customer demos on boats fitted with Volvo Penta's full suite of products are also a mainstay of day-to-day business at Krossholmen, located minutes from company headquarters.
In a typical year, the test center can rack up over 4,000 hours of testing time, while the test and demo boats will usually cover around 40,000 nautical miles.
"This is a step forward for us at Volvo Penta, as we see the use of HVO fuel as a viable alternative to traditional fuels. It is very much a move to environmentally enhance our operations. We encourage more investigations like this across the boating industry in the hopes that together we can push for wider spread availability and access to renewable fuel sources like HVO," Volvo Penta told IBI.