This year's Dubai International Boat Show revealed a growing interest in environmentally friendly boats and propulsion systems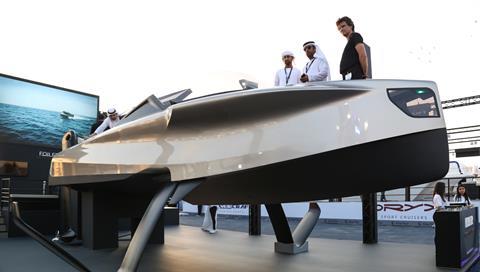 The 27th edition of the Dubai International Boat Show (DIBS), which closed on Saturday 2 March, revealed a growing interest in environmentally friendly boats and propulsion systems.
According to event organiser the Dubai World Trade Centre (DWTC), many exhibitors reported strong sales, including ENATA – builder of the ENATA Foiler, a fully foiling powerboat.
"This year was very good for us," says ENATA manager Aloïs Vieujot. "We received a lot of interest in our Foiler design and are delighted to report that we made several sales during the course of the Dubai International Boat Show. It has been a fantastic show to be a part of, and I'm sure we will be back next year."
This year DIBS welcomed more than 800 brands and exhibitors, 71 of whom took part for the first time. The event played host to 15 global and 23 regional launches, seven of those from Emirati yacht manufacturer, Gulf Craft. Making its show debut was the firm's Nomad 65 SUV, which has the option to come fully solar-powered – one of several exciting green initiatives showcased during the five-day show.
Mahmoud Itani, marketing manager of Gulf Craft, explained: "We decided to make a solar-powered yacht to be more environmentally friendly and to reduce our carbon footprint. The solar panels on the Nomad's roof are used to power the boat's auxiliaries, such as lights, electrical sockets and AC for an overnight stay with up to eight hours at full charge. It is an initiative that we are keen to take further and eventually have a fully-powered yacht using solar energy.
"We received great interest in solar power throughout the Dubai International Boat Show, and were also asked if we could install the system on other yachts too."
Across the show's marina exhibitors, many reported an enthusiasm for sustainability amongst local buyers. Sophie Hotz, relationship manager at Dominator, said: "Sustainability has been a really important talking point for interested clients this week. When we've spoken about engines, for example, we've been asked about the more sustainable options that are available. People are now really interested in the different propulsion options, different motors and engines that can allow their yacht to be more sustainable, which we can adapt to fit their needs. It's been a really key topic for them."
With 450 boats and yachts on display, the 2019 edition of the Dubai International Boat Show drew tens of thousands of local, regional and international visitors celebrating the fun, lifestyle and excitement that being on the water brings. Visitors were treated to a jam-packed schedule throughout, offering something for everyone from families, kids and beginners through to the more expert boater, enticing new audiences to the show and to the world of boating.
Riju George, event director at the Dubai International Boat Show, said: "This year's show was really strong and a success in terms of attracting key trade visitors and buyers from across the marine world, plus families seeking a day out. The show has once again offered a special platform for international marine brands to reach the Middle East, where we have seen the boating community grow steadily over the years. The energetic and interactive atmosphere of this year's show – in tandem with the success many of our exhibitors have reported – has been testament to this.
"It's been great to see how many people have enjoyed getting out on the water, especially first-timers, as we endeavoured to create a show that caters to all sea and water activities from kayaking to diving to yachting; there truly has been something for everyone," he adds. "We look forward to celebrating the 28th edition in 2020 with an even bigger and better show."