Alva Yachts was founded by Mathias May and Holger Henn in early 2020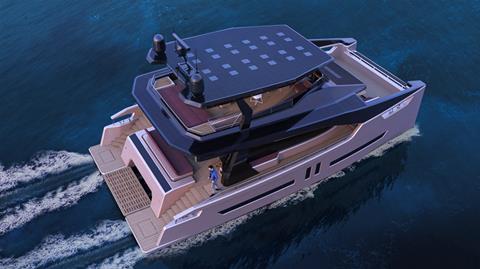 A new German company is to launch a range of electric solar catamarans, sailing yachts and luxury floating homes for the global market.
Alva Yachts, which was founded by Mathias May and Holger Henn in early 2020, grew from the former Pica Yachts shipyard in Bad Pyrmont, Germany.
Pica had six years' experience in the development, construction and marketing of small, electric-driven sail and motor yachts, and by the beginning of 2020 had already sold over 40 boats.
Serving as managing director of Alva Yachts is Mathias May, who brings with him many years' experience in boatbuilding. Holger Henn, a celebrated yacht designer with numerous award-winning designs from 26ft-82ft under his belt, has taken the role of CEO.
Alva says it builds differently to other electric boat brands, because its yachts are designed specifically around electric propulsion, not retrofitted. The company currently has two Ocean ECO 60 catamarans in production, with plans for a 90-footer.
Alva also offers the Ocean ECO Sail 82.
"The bold, modern lines of the Ocean ECO 60 and Ocean ECO 90 are certainly seductive, but they also serve another purpose," says the company in a statement. "By continuing the line of the coachroof down to the raised bow, Alva maximises the space available for solar panels."
Those solar panels are shaped and fully integrated into the structure of the yacht's coachroof. At peak output, they can generate 20kW on the Ocean ECO 60. Meanwhile, the 300kWh lithium battery bank gives the boat an optimum range of 110Nm at 7kt, or potentially unlimited range at 4-5kt.
There is the option of a hybrid system with a zero-carbon hydrogen fuel cell as a range-extender, and even a kite to harness the power of the wind.
As for the performance sailing market, the Ocean ECO Sail 82 is said to be the most self-sufficient yacht of its size. Innovative features include a state-of-the-art rig, hybrid propulsion and a high-capacity battery bank allowing the boat to generate totally renewable energy under sail.