iBi is a 100% emissions-free catamaran that filters and removes plastic from the sea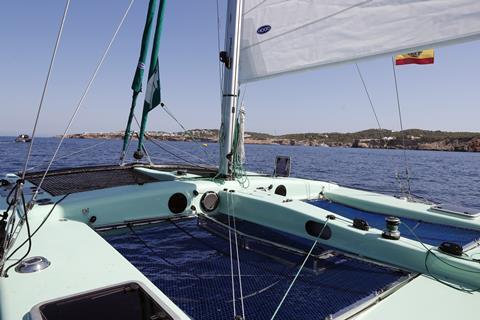 A solar-powered catamaran designed to clear plastic from the sea has launched in the Balearic island of Ibiza.
The initiative is being carried out by iBi Foundation, a non-profit organisation whose boat, named iBi, features a unique ocean clean-up system that filters and removes plastics from the ocean whilst underway.
The 100% emissions-free boat was developed by La Bella Verde, a Spanish company that was recently awarded Best Start-Up at the Barcelona Boat Show.
The iBi system itself covers an area of 22,224 m2 every hour – the equivalent of 3.11 football fields – whilst filtering 11.112 m3 during that period. This is equal to 4.4 Olympic-sized swimming pools per hour.
The filters work at 0.5m below the surface of the water, collecting plastics that are 2cm and bigger, up to a maximum of the entire boat's width. This ensures that larger debris such as industrial plastic waste can also be collected.
iBi Foundation is working closely with Plastic Free Ibiza, Ibiza Preservation Fund, Noctiluca Asociacion, LBV Foundation and World Cleanup Day to achieve Ibiza's goal of becoming free from single-use plastic by 2023.
Plans are now undeway to further expand the fleet of catamarans.