The Portugese builder plans to launch its latest solar-powered model this year
Sun Concept's solar cat 12.0 Cruise has been undergoing sea trials ready for her official unveiling later this year. It marks a significant step for the Portuguese builder that was founded in 2015 by a group of investors keen to put their ecological stamp on boating. Their first launch, the SunSailer 7.0, was directed at tour operators and following its success – 20 have so far been sold – it inspired Sun Concept to develop a larger cruiser that can be used in open water.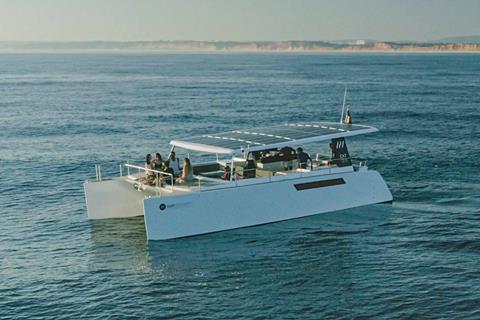 The CAT 12.0 has been designed to be as adaptable as possible – it comes in a 'Lounge' version designed for day cruising and boat trips, and this, the new 'Cruise' version which features two guest double bedrooms and a 27m2 saloon making it ideal for the charter market. Both of these first 12.0 models have been sold – the Lounge version launched in June last year and is now with a tour operator, while this second Cruise is destined for a private owner.
The builder currently has capacity to build six CAT 12.0s and 10 SunSailer 7.0s a year but is looking to upgrade it facility and production capacity. A key driver for the company has been to have as efficient a serial production line as possible to enable it to bring its ecological products to market at competitive prices.
For the Cat 12.0 Cruise, prices range from €420,000 for the base version, up to more than €550,000 for a version with full extras and carbonfibre. According to Sun Concept the new Cruise Cat 12.0 currently being trialled will have unlimited autonomy at low speeds (approx. 3-4kt), but at cruising speed (7kt) will be able to run for around 14 hours.