Suzuki crew collects more than a truckload of trash from Panama City-area beach as part of ongoing Clean Oceans initiative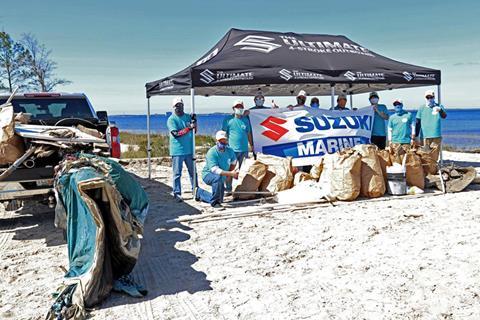 A number of Suzuki Marine US staff, including senior executives, recently rolled up their sleeves to help clean debris from a Florida beach as part of the company's Clean Oceans Project.
Suzuki Motor of America president Masahiro "Max" Yamamoto, executive vice president Kunihiko Wahira and vice-president Gus Blakely were among a Suzuki team that removed more than a truckload of debris from a Panama City-area beach this month as part of the company's ongoing environmental initiatives.
In a span of 90 minutes, the group completely filled a pickup truck bed and several waste bags with a variety of debris gathered from the beach and surrounding grasslands, from small items like wrappers, cans and bottles to large items like lumber, tarps and PVC pipes.
Much of the debris was attributed to Hurricane Michael, which washed over the Panama City area in 2018.
Suzuki established a new Marine Technical Center in Panama City last year, and is in the process of relocating its corporate head office to the Tampa region.
"All of us at Suzuki take the goal of protecting our waters and coastal environments seriously," said Blakely. "The problem of pollution is not unsolvable if we all do our own small part. This is why we recently introduced the world's first microplastics filter for use on our outboard motors, and why we engage in grassroots cleanup activities such as this all around the world."
Apart from lending a hand with the local clean-up effort, Suzuki also took the opportunity to meet with Florida state officials, including Governor Ron DeSantis, in order to review plans for the company's Technical Center and new Suzuki Marine headquarters in Tampa. "We came away from these meetings feeling energised and confident that we made the right choice in making Florida our new home," said Blakely.