There has been a great deal of development in adhesive technology – offering greatly reduced curing times and limiting the number of holes that need to be drilled into a product for fixtures and fittings.
"Most of the demand is coming from the automotive industry, where the vehicles are moving down a production line," said Scott Bader's Neil Kegg. "Car makers also want their vehicles to be lighter, especially those running on electricity, so they are keen to reduce the amount of metal fixtures and the time taken to build a vehicle. We have developed adhesives with a full cure time of just 3 minutes, and these have met with approvals from OEMs such as Daimler, Toyota and Tesla."
Scott Bader is diversifying its product offerings to address several sectors more fully, including thermoplastics, shipping and rail transport. Developments here are of interest to leisure marine, especially the tool making products for moulds and fire retardant resins being developed for public transport and the construction industry.
With chemistries based on methyc acrycate and other modified acrylics, the choice for the boatbuilder is widening every year.
Here are some examples: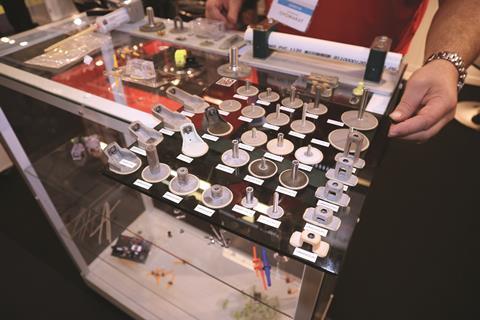 CLICK BOND
Click Bond provides a fastening solution for marine hull and component fittings utilising a quick, easy-to-use adhesive strips. Click for more information and a video demonstration
MAKING MOULDS THAT LAST
A great deal of time and effort goes into making a mould tool, which then has to last for the full production run of the model being made. Scott Bader has addressed the issue of longevity with its updated and rebranded Crestamould line of mould tools.
"Everyone involved in moulding needs moulds that are accurate, won't distort and can be used over and over again," said Scott Bader's Neil Kegg. "We have developed a new range of tooling products within the Crestamould brand to create a full system for the plug and the mould from cradle to grave."
A typical new product from the range is Crestamould T27, described as a sprayable modified polyester compound designed for the milling of large plugs of up to 25m or 75ft. The product can be sprayed in a few passes up to a thickness of 25mm (1in). The resulting surface is homogenous, will prevent print through and is flexible enough to prevent cracking.
"All the products are longer performing, and we believe the system has re-engergized our moulding side of the business."
SECTOR SPOTLIGHT | Materials & Machinery
1

2

3

4

5

6

Currently reading

ADHESIVES & MOULD TOOLS

7

8

9

10