$3m simulator designed to allow analysis of hull designs while training crews for international competition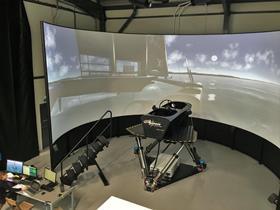 Belfast, Northern Ireland-based Artemis Technologies Ltd has partnered with simulator manufacturer Cruden to develop a new fast craft sailing simulator that can be used for analyzing hull designs, developing control systems, and training crews for competitive sailing events.
Development costs for the simulator exceeded $3m, according to David Tyler, commercial director at Artemis Technologies. The simulator's realism is said to be essential for crew training, which consists of familiarisation with the boat's latest systems, rehearsing responses to emergency and failure modes, and building muscle memory and rhythm for manoeuvres.
Tyler notes that the company is open to discussions with prospective third-party buyers, and that the platform or cockpit can be changed to suit different applications.
Designed in association with America's Cup challenger Artemis Racing, the new sail simulator utilises Cruden's latest Panthera simulator software, controlled from a top platform structure that's based on a key section of an F50 catamaran. A 4.5m high, 210-degree wraparound screen provides a realistic operator environment, utilising images from three Barco F70-4K6 4K UHD laser phosphor projectors.
"The simulator will enable Artemis Technologies to make design direction decisions much earlier. We learn too much too late, only discovering whether the offline engineering has been successful once we get the boat in the water," said Jonathan Nicols, lead systems engineer at Artemis Technologies. "The professional sailing world is starting to take simulation technology seriously and in making the decision to move ourselves forward with Cruden, we are confident we have created a new concept of yacht simulator."