Winners of the 2019 European Inventor Awards will be announced in June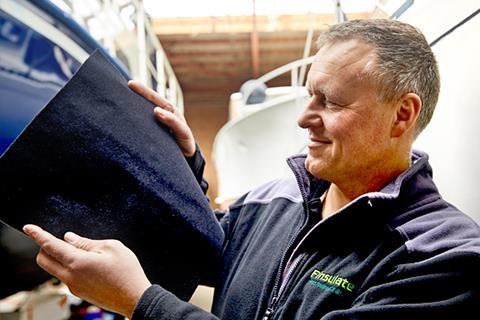 Nothing gets more attached to a boat, apart from the owner, than marine life teeming below it. Fighting hull fouling costs the global boat and shipping sectors a fortune each year and is environmentally unsound.
Dutchman Rik Breur says his Finsulate antifouling fibre wrap stops all that. The European Patent Office just named him a finalist in the 2019 European Inventor Awards in marine technology. Award winners will be announced in June.
Holder of a PhD in corrosion and biofouling from Delft University of Technology, Breur says he currently focuses on supplying Finsulate to the boat and yachting sectors "because consumers are looking for environmentally safe products. Yacht owners have used Finsulate in speeds of up to 30kt. But, Finsulate wrap also works on commercial ships, oil rigs and wind turbines at sea."
Like a sea urchin's prickly surface, his wrap of nylon microfibres prevents the growth of algae, barnacles and mussels on hulls, improving fuel efficiency by up to 40%. Hull fouling costs the shipping industry an estimated €20bn a year. But antifouling paints are toxic.
Finsulate wrap comes in rolls and has a self-adhesive side. The swaying of the prickly nylon spikes discourages algae, mussels, barnacles and other marine life from settling. Breurs says the fibres have been extensively tested to ensure they don't fall off and become microplastic pollution.
"The glue that holds the wrap to the hull is guaranteed for five years," says Breur. "That is longer than any other form of anti-fouling."
Finsulate was named product of the year at the 2018 HISWA Amsterdam Boat Show. The European Inventor Award honours people not only for scientific or technological breakthroughs, but also for the impact their invention has on society and the economy.