The Dutch firm recently launched one for large yachts and commercial craft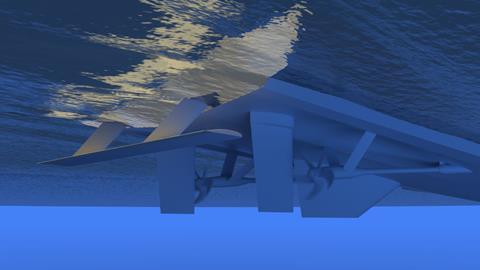 Hull Vane BV of the Netherlands has developed a semi-custom, below-the-transom wing for recreational yachts of 10m-20m to improve their speed efficiency, extend their range and improve onboard comfort.
The move comes fives years after the company launched one for large yachts and commercial vessels.
The Dutch company showed the "semi-custom" Hull Vane for 10m-20m recreational craft at the 2019 HISWA-in-Water Boat Show earlier this month in Lelystad, the Netherlands.
The patented, underwater Hull Vane sits below the transom. It generates forward thrust by raising the stern and keeping the bow down at high speed.
Hull Vane BV installed the first on the 42m Heesen-built superyacht Alive in 2014. It makes the yacht do with less installed power, boosting its range by 23% to 4,000 miles. On commercial vessels, the outcome in efficiency is of the same order, says the company.
Using Computational Fluid Dynamics software, Hull Vane, a unit of Van Oossanen Naval Architects, designs customised wings for large vessels. "Owners of recreational craft like the benefits but cannot afford the full-custom CFD optimisation and foil shaping costs," says Hull Vane sales manager Bruno Bouckaert.
"We analysed many hulls of 10m-20m yachts and designed a semi-custom foil for that length bracket. We adjusted its length and hull position. Also, we build them of aluminium, not steel. It's a very efficient, lightweight design for small cruisers or service craft. So, all Hull Vanes of 20m and more are unique. For the under-20m length we have a more basic, semi-custom unit."
To date, Hull Vane BV has delivered 21 full-custom units on yachts and commercial vessels. It has orders for about two dozen more. The Hull Vane is for medium-speed and fast displacement vessels. In addition to double-digit fuel savings, the wing also acts as a passive motion damper.