The nearly 20,000sq ft facility will house two marine-specific hemi-anechoic chambers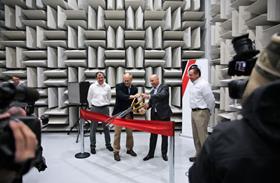 Mercury Marine has officially opened its new US$10m Noise, Vibration, Harshness (NVH) Technical Center at its global headquarters campus in Fond du Lac, Wisconsin.
The nearly 20,000sq ft, two-storey facility will house two marine-specific hemi-anechoic chambers designed to provide a consistent test environment that mimics being out on the open water without any outside noises present; structural dynamic testing bays for the measurement and analysis of the NVH properties of engines, components, and full configurations on boats of up to 45ft in length and up to 12ft in beam; a listening (playback) room; and office space.
NVH is the engineering practice of studying noise, vibration and harshness characteristics; these are integral to the boating experience, ensuring the quietest and most peaceful engine for the consumer.
"We have long said that we will continue to invest in ensuring that our engines are the most reliable and quiet engines in the world and our new NVH Technical Center gives us the additional test capacity we need to continue to meet and exceed our product development goals and meet and exceed the desires of our customers," said Tim Reid, Mercury Marine vice president of product development and engineering in a company statement.
The new facility is Mercury's third major expansion in the last 20 months. In early 2017, Mercury officially opened its new $24m EDP paint plant and in April 2017, Mercury commissioned a 4,500-tonne high-pressure die-cast machine, the largest in North America. In total, Mercury has invested more than $1bn globally in expansion and R&D since 2008.