There seemed to be more machinery than usual at this year's JEC World. Big advances in automation and additive manufacturing – a process whereby components are built up by hot metal – have allowed some machines to create spare parts for themselves. The precision of the manufacture of components, and the ability to send instructions via the internet to a milling machine are all allowing for faster turnaround times and reduced costs for prototypes.
The accuracy of cloth trimming machines, for example, has made big inroads into waste reduction, whilst new types of milling machines and plug materials have greatly reduced dust and other pollutants. The evolution of 3D printing also appears to be accelerating, with costs falling and machines becoming more miniaturised.
Here are some of the machines – and the products they can produce – that lend themselves to marine applications.
BIG METAL ADDITIVE
Slade Gardener explains the advances in additive metal manufacturing with application to complex shapes requiring precise tolerances, at JEC 2019. Click to see additive metal manufacturing in action.
PLUGS FROM CUBES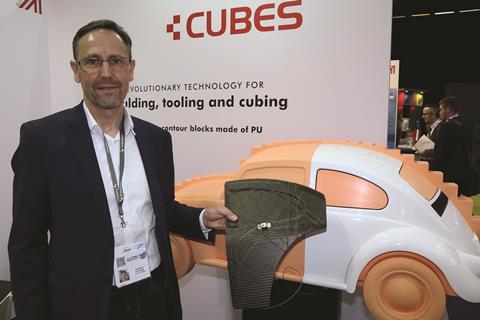 Most plugs that are CNC cut are made from a large block of coated polystyrene foam, but a new process from Austrian-based Cubes GmbH seeks to greatly reduce both cost, time and dust with a new 5-axis milling process using computer-placed cubes of polyurethane. Send the company your digital file, and it can cut and finish your plug in just five days.
The process efficiently builds the contoured block from which the shape will be cut, with no bonding involved. This means that only enough material for the cutting is used, with little waste. The blocks, available in different sizes and densities, are assembled according to digital files a customer sends in. The whole process, including the quote and shipping details, can be followed on line.
"Our process is very fast and saves the customer a lot of time and up to 40% less cost," said Sales Manager Christian Schuster. "The tailings from the cubes are flake-like and dense, so are easily collected and disposed of." www.cubes-gmbh.com
TRIMMING WITH ACCURACY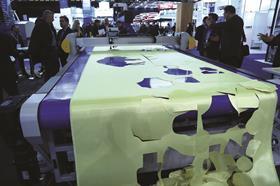 Eastman's Pro Cut software is both user-friendly and efficient in maximising the utilisation of expensive materials on cutting machines. Click for more details and IBI's video of the process.
FASTER PROTOTYPING IN 3D
Working closely with the US Department of Energy, MVP claims to have developed the world's first-ever large scale thermoset printer, and smaller examples were seen working at JEC World. The printer, designated Thermobot, is capable of printing large scale thermosets (heat malleable plastics that set hard when cooled). However, due to new resin and prepolymer chemistries, once these plastics have cured, the process is irreversible, resulting in a very stable product that won't distort if they get too warm.
"With this new technology, researchers and developers will be able to prototype more quickly," said MVP's marketing co-ordinator Ron Blackburn. "This will bring products to market faster, positively impacting the productivity of the additive manufacturing industry."
Also on display was the Single Component Unit, described as the most 'user friendly unloader on the market.' Designed for portability and the safety of the operator, the unloader is easily moved over a drum of material by just one person. The frame is rugged, with good access to its control panel, making the unloading of fresh material as easy as possible. www.mvpind.com
OTHER MACHINES & COMPANIES OF NOTE
Belotti - Italian-based Belotti was celebrating its 40th year in production, with the recent expansion of its facilties in Bergomont, 50km outside Milan. Now employing 100 people and with a turnover of €6m, Belotti provides CNC trimming and milling machines to premium brands such as Ferretti, Larson, Cranchi and Azimut. www.belotti.com
CMS - Also in the Italian sector, CMS was displaying its new 5-axis milling machine designed to shape carbonfibre, and the particular needs of milling this type of material. CMC says it is able to offer a full turnkey package for all types of materials, including aluminium and GRP. The package includes dust extraction and series of accessories for specific clients demands. www.cms.it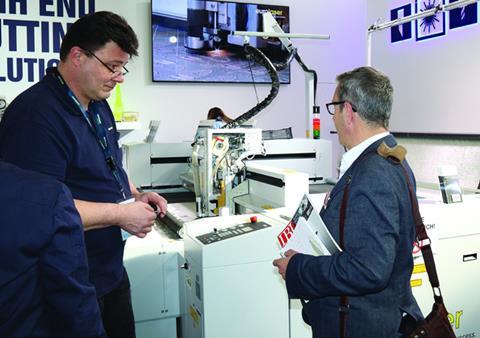 Eurolaser - German-based Eurolaser was demonstrating its 400watt CO2 laser cutter on two systems combined into one custom machine. The M-800STA laser assembly was working with the L-1200 conveyor system. It can cut cleanly through most materials used in boatbuilding and can also be fitted with engraving and labelling tools. The Eurolaser team can set a machine up specifically for your production process. www.eurolaser.com
MAKING MOULDS THAT LAST
A great deal of time and effort goes into making a mould tool, which then has to last for the full production run of the model being made. Scott Bader has addressed the issue of longevity with its updated and rebranded Crestamould line of mould tools.
"Everyone involved in moulding needs moulds that are accurate, won't distort and can be used over and over again," said Scott Bader's Neil Kegg. "We have developed a new range of tooling products within the Crestamould brand to create a full system for the plug and the mould from cradle to grave."
A typical new product from the range is Crestamould T27, described as a sprayable modified polyester compound designed for the milling of large plugs of up to 25m or 75ft. The product can be sprayed in a few passes up to a thickness of 25mm (1in). The resulting surface is homogenous, will prevent print through and is flexible enough to prevent cracking.
"All the products are longer performing, and we believe the system has re-engergized our moulding side of the business."
SECTOR SPOTLIGHT | Materials & Machinery
1

2

3

4

5

6

7

8

Currently reading

MILLING, CUTTING & PRINTING MACHINES

9

10