Carbon fibre, natural materials and recycled plastics are prevalent in the drive for light, strong and sustainable reinforcements
Walking around the two massive halls of JEC, the visitor is struck by just how much carbon fibre is being used compared with just a few years ago. This light, strong and attractive material was evident in products as wide-ranging as suitcases and training shoes to cars and motorbikes. There is more choice now in the types of carbon fibre cloth available and economies of scale are bringing prices down. Ease of use is also a major theme, with one company, show sponsor Chromarat, even adding a self-adhesive film to the back to some versions so it hangs in the mould more easily.
In the world of foam core reinforcement, the quest for lightweight with strength and the ability to thermoform continues, with greater attention to using high-performance cores made from a greater percentage of recycled plastic.
Meanwhile, flaxes and other natural materials are being harnessed to use within a laminated hull, with impressive claims as to the longevity and reduced carbon footprint this represents. One section of the show was given purely to completely natural reinforcement materials. These are the products that we think will make a big impact on the marine industry in the immediate future.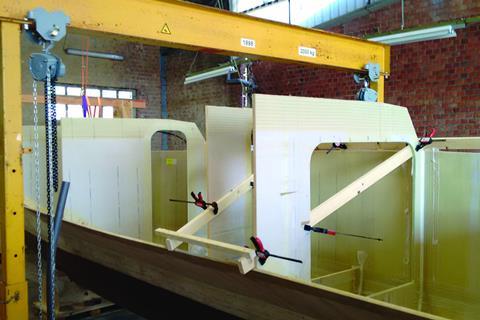 MAXCORE'S FIBRE ENGINEERED SANDWICH
French-based Sicomin was showing a new method of dry fibre insertion into sandwich core sheets. Branded as Maxcore, this process creates a series of cross braces, adding a great deal of extra strength to supplement the existing foam core. Click for more details on marine applications.
AERODYNAMIC RIGGING FROM FUTURE FIBRES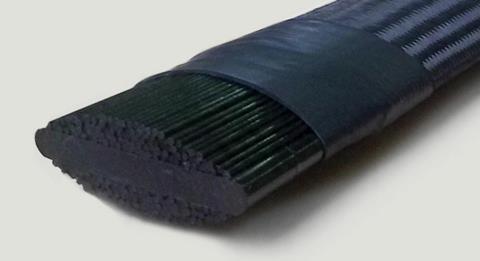 Future Fibres, a subsidiary of mast makers Southern Spars since 2014, receivied a lot of interest at JEC 2019 for its new range of carbon yacht rigging, where the profile has been changed from a cylinder to both an elipse and extended elipse shape. Click here, for details on performance gains from the new rigging.
SELF-ADHESIVE & HYBRID CARBONFIBRE
France-based Chomarat (pronounced Show-mar-rah) were a major sponsor of JEC World, and on their stand was a collection of new carbon fabrics set to greatly reduce the cost of boatbuilding. Chomarat is active in many industries, most notably textiles, so routinely mix different fibres to create hybrid fabrics for reinforcements. This approach has been successfully used with carbon fibre cloth.
The company has found a way to mix different ratios of glass fibre strands into a carbon weave to reduce the cost of pure carbon. Additional strength is obtained with directional stitching. As an option, a very thin (10 micron) layer of adhesive can be applied to the back of all of their new fabrics during manufacture. This allows the fabrics to be tacked into position in the mould, and also saves a great deal of time and VOCs as the moulders don't need to use spray glue or tape during assembly.
"The new carbon and hybrid fabrics have been developed primarily for the automotive market," explained Philippe Sanial, Chomarat's Group R&T Director. "They are just as strong as more costly versions of carbon fabrics but at a reduced price, so they are now proving ideal for vacuum infusion boat building."
Chomarat were showing samples of the new fabrics on their stand. These included the C-PlLYSP BT 600GSM 50K (ie 50,000 filaments per thread or 'tow') and C-PLY SP Biax 30o 150gsm 12K. www.chomarat.com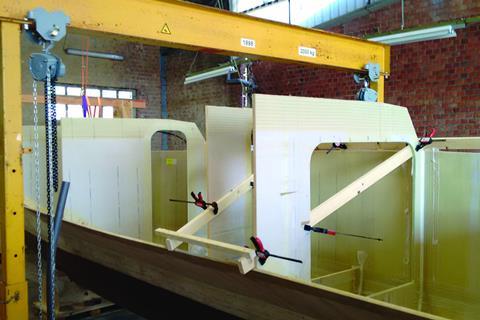 QUICK ASSEMBLY PANELS
Germany-based VDL was demonstrating its range of Australian-designed DuFlex panels, intended to reduce construction time by being easy to cut and secondary bond. The balsa and foam cores are held together with an epoxy matrix, said to greatly reduce the laminate thickness whilst improving the tolerance to damage and resistance top osmosis. The panels are available in a standard 1200mm x 2400mm, but where they really score is that they can be machine cut by CNC into low volume and lightweight boat building kits. www.vdlcomposites.de