Advances in resin technology are aimed at reducing styrene, providing greater endurance and quicker cure times while perfecting surface finishes
Within resin technology, the challenges are to reduce the styrene content in polyesters and boost the percentage of the bio content in epoxies. Resins are also being modified for greater endurance and quicker cure times without shrinkage or distortion, whilst fire proofing remains a high priority for commercial applications.
"Over the years we have been developing products to make boats lighter," explained Neil Kegg of the giant chemical company Scott Bader. As regional sales manager, he looks after Italy, Holland, Turkey and Israel over several sectors within GRP moulding.
"The other main objective is surface finish. Boats are getting bigger, with more superstructure. There is a lot of heat enerated in the moulding process and exposure to ultraviolet radiation when in use. Manufacturers are concerned to get the very best surface finish they can, so we have done a lot of work with them to understand the actual cure profile. We ask them how long boats are left in mould, how long they post cure and at what temperature and so on."
As for sustainability, Scott Bader is meeting the demands being set in other sectors. "Our CEO is very concerned about sustainability and has a 2036 vision," Kegg said. "He has been meeting with major boat manufacturers to get their views. We have been gradually introducing a range of eco-friendly gelcoats with less styrene in them, but now we have produced a gelcoat that has no styrene content at all. (See more on Crystic Ecogel SO PA below). This is currently being used by the wind energy industry, which is very keen to have the greenest credentials possible, but it also has great potential in the marine industry."
Other manufacturers are seeking to boost the bio-content of resins and pigments whilst reducing toxicity, but without any compromise in either mechanical strength, weather resistance and ease of application. As the products described below prove, they have made some remarkable progress.
SKIN-FRIENDLY AMPREG 3X EPOXY FROM GURIT
A major problem with all types of epoxy resin is that some people can develop an allergic reaction to them, and this can become quite severe. Whilst gloves and barrier creams can reduce this reaction, sometimes the fumes alone are enough to trigger an attack of dermatitis, an irritating skin rash.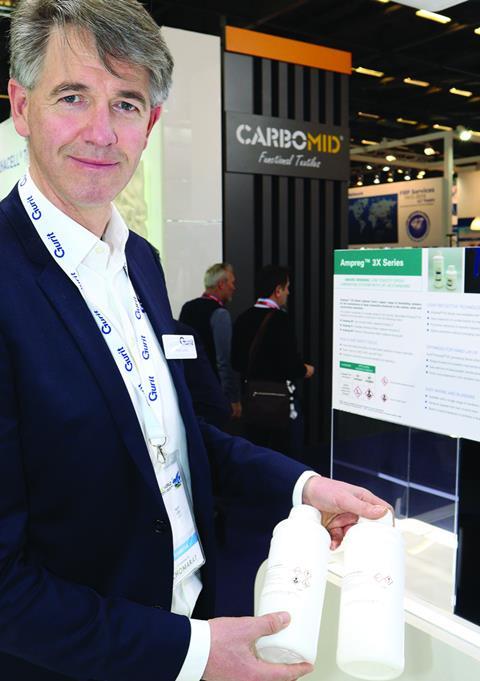 Gurit believes it has completely removed this allergic reaction with the formulation of its new Ampreg 3X laminating series of low toxicity epoxy, a development of the Ampreg return to the industry after dermatitis had forced them to leave it," said Rudy Jurg, Gurit's regional sales manager. "The new formulation has no adverse reaction, even to those people who are highly sensitised."
The Ampreg range has been formulated to be just as strong and versatile as previous Gurit (formerly SP) epoxies, but the base chemicals have been chosen to give a low toxicity matrix. This is said to be free from CMR (Carcinogenic, Mutagenic and Reprotoxic) chemicals, SVHCs (Substances of Very High Concern) and AEP (Aminoethylpiperazine). Even the range of hardeners, from fast to extra slow, are described as environmentally non-hazardous. See Gurit's light reflective technology below.
BIO-RICH RESINS FROM WEST SYSTEMS
New from US-based West Systems is the new Entropy range of epoxy resin launched at JEC 2019 by two of its European distributors, Wessex Resins and VDL GmbH. Entropy resins are described as largely plant-based formulations using Super Sap technology and are used extensively for watersports that utilise a lightweight board, such as kitesurfing, sailing and paddleboarding. There are six standard products, each developed for specific tasks. These range from the One System for fast cure and easy release lamination, through to the BRT system for the clear lamination of ultra-white cosmetic applications – so ideal for boats and boards.
Picking up on the shows sustainability theme, Ian Oliver, MD of Wessex Resins, said: "Everybody wants to do more for the environment. Entropy Resins contain a meaningful percentage of raw materials from sustainable feedstock sources. We will be working to increase the performance and plant-based content of our products over time."
GRAPHENE-ENRICHED RESIN
Displaying a section of hull made using a new graphene-enriched resin was the Spanish company Grapheneno Composites, a subsidiary of the much larger Graphenano Group. The resin is said to offer a 20% saving in weight whilst also providing far greater impact resistance, mainly because the resin is reinforced at a nano-particle level.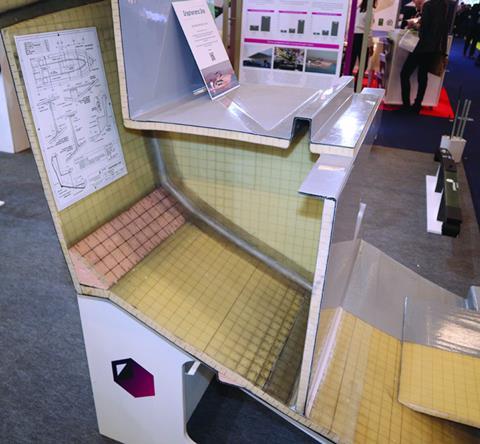 The Graphenano Group describes graphene as "an atom-thick two-dimensional carbon nanomaterial which, whilst being extremely light and thin is also the most resistant material found in nature. It also has other properties such as elasticity, transparency, and thermal and electrical conductivity, making it one of the most studied materials in modern science."
By reformulating polyester resin to incorporate particles of graphene, the company claim to have greatly improved the adhesive qualities of the resin to its fibres and composites, whilst also improving the lightness and strength of the finished hull. The first boat made this way is named Graphenano 1, which is said to achieve the 20% reduction in weight by needing a lot less material in its construction.
GURIT'S LRT RESINS 'GLOW' IN UV LIGHT
Swiss-based Gurit has developed a technology that allows epoxy resin to glow blue when hit by a beam of 'dark' UV light. The optional LRT (Light Reflective Technology) additive can be mixed into any laminating or adhesive system without altering the characteristics of wetting out, curing or handling. This allows for the easy detection of any resin contamination as it will fluoresce when exposed to UV light.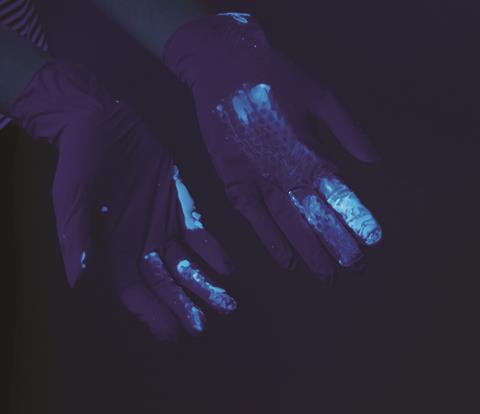 When exposed to 'light' from an inexpensive UV emitter, droplets of resin of less than 1 mm can be detected with the naked eye, with greater detection rates possible using special equipment. This allows resin splashes on skin or door-handles to be easily identified and removed. "Workers can avoid bringing resin splashes home to their families, who may be more sensitive to it," Gurit's Rudy Jurg said.
The LRT additive also allows for the checking of adhesive bond lines, such as in yacht hulls, especially in hard to reach areas. The technology has already proved very useful in the quality control of wind turbine blades, where workers can check full adhesion along the contact lines.
The LRT technology is standard in the low toxicity Ampreg 3X range, which has bene formulated for workers with a high sensitivity to epoxy. www.gurit.com
STYRENE FREE POLYESTER RESIN
Scott Bader was promoting its new Crystic Ecogel SO PA zero styrene polyester spray gelcoat at JEC, seeking to widen its take-up in other sectors. Currently, the new formulation has been approved and adopted by a 'major player in the wind generation industry' and Scott Bader is steering its move into marine.
The new product is the latest addition to an already substantial portfolio of Crystic Ecogel low styrene gelcoats that range from styrene content from 23% (S5 PA - non marine) to as low as 16% (S1 PA). The new zero styrene addition is also said to be free from acetone too, and offers high elongation, excellent weathering performance and low VOC content. The latter is also important as a tranche of new regulations from the EU is driving down the VOC content in a range of products, including paints. www.scottbader.com