Collaboration with JAMSTEC to develop fully automatic robotic boats includes development of satellite-controlled docking capability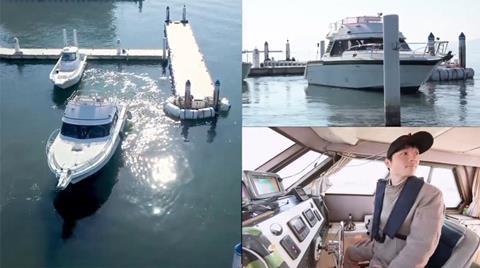 Osaka, Japan-based Yanmar has announced it is developing a fully-automated docking system that will park boats into even congested slips without requiring any human input whatsoever.
The company's auto-docking technology is being developed as part of a collaboration with the Japan Agency for Marine-Earth Science and Technology (JAMSTEC) aimed at creating fully robotic boats for operations in dangerous waters, maritime surveys or future "smart" fisheries applications.
The automatic docking capability being developed as part of that initiative is seen as having immediate and widespread applications in recreational boating. Its ability to function without any operator inputs is seen as being particularly beneficial to owners of charter and rental fleets, while appealing to new or inexperienced boaters.
Yanmar's docking system utilizes RTK- GNSS 2 real-time kinematic satellite positioning technology boosted by the company's proprietary digital repeater system to provide extremely precise positioning data that can be used with additional sensors to accurately direct the boat into its designated dock location.
"The technology is to be applied not just to commercial vessels, but also to Yanmar's recreational marine and fishing vessels in Japan, with deployment commencing after 2020," notes a company news release.
Yanmar has considerable experience in developing autonomous products for the agricultural market, including an auto-rice transplanter and an autonomous tractor.