Germany-based ZF recently launched a new saildrive leg that can fully rotate for integrated joystick control. From November, a fully-electric proof-of-concept version will also become available for sea trials
Quite literally steering its customers towards 'a clean and sustainable future', ZF has developed a fully electric version of its new Steerable Pod Propulsion (SPP). The original version could only be combined with a diesel engine, but in response to a rise in hybrid and all-electric leisure craft, ZF will be launching an electric drive version at the end of the year, most likely at METSTRADE. Meanwhile, the R&D team are working on a new generation of the SPP model, which will be boosted from its current 80hp to a more meaty 150hp.
The arrival of the diesel and all-electric SPP units is very timely. With the average production sailing yacht now around 40ft (12m) and often quite skittish due to its fin keel and shallow forefoot, amateur sailors are often quite wary when it comes to docking. For the motorboat fraternity, however, systems like Volvo's IPS or Mercruiser's Axius allow a complete novice to drive intuitively using a highly-responsive joystick, but sailboat owners have been missing out. Now a leading manufacturer of saildrives, ZF has released its new Steerable Pod Propulsion (SPP) system, and it is set to revolutionise boat handling – quite literally.
Steerable propulsion is nothing new; the cruise ship industry has been using it for years to allow incredibly unwieldly ships to dispense with the need for tugs. The new generation of autonomous ships, for example, will feature steerable pods containing submerged electric propulsion to allow computers to manoeuvre with uncanny accuracy. Incidentally, ZF is also highly active in this sector, where it provides a wide range of steerable and variable-speed thrusters for large commercial vessels. By contrast, yachts have traditionally been restricted to fixed propeller systems, with only the smallest – and some multihulls – benefitting from steerable thrust via outboards, sterndrives and pods.
ZF has been making streamlined saildrives for production boatbuilders for years and hit on the idea of creating a unit that could rotate all the way around to give full directional control of the thrust. There is actually no propulsion 'pod' on the leg itself. The leg retains its sleek hydrodynamic profile as apart from the gear hub, all the workings are inboard. Perhaps 'Steerable Drive Leg' would be more descriptive for this type of product? But that's a minor detail as the product itself is a remarkable piece of engineering.
Hybrid roots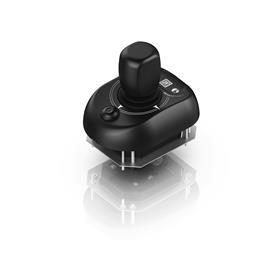 "We developed the SPP also as a possible retrofit item," explained ZF. "For boats that already have a standard saildrive – and there are thousands of them out there – this unit would simply slot into the existing brackets with minimal modification work required. In most cases, it would be a straight swap with plug-and-play connectors. The same would apply to new builds, where OEMs could offer this unit as an upgrade option within an existing design. In addition, the diesel engine can be mounted either ahead of the transmission, or behind it, which increases the boatbuilders options. The process becomes more challenging for retrofits to yachts that have a conventional shaft drive arrangement. It is perfectly possible, of course, but may require the engine itself being relocated within the hull."
The actual steering is carried out by an 'industrially-rated' electric motor within the saildrive unit. This rotates the leg via the new ZF Joystick Maneuvering System. This is designed to operate at very low speed, and feeds engine power to the leg via a hydraulic clutch. As with all ZF joystick products, the speed is proportional to the movements of the knob, and the boat manufacturer can set the maximum parameters for speed according to the characteristics of that particular model.
By harnessing the system to a bow-thruster, the result is drama-free docking, and well within the boat handling abilities of a complete amateur. Because no reverse is required (the forward thrust is steered around a half circle) the unit can be used with fixed or folding propellers. The folding propeller option, never quite as efficient in reverse anyway, also optimises sailing performance.
New electric version
The new electric drive version will dispense with the diesel engine and replace it with a 60kW electric motor instead. "This will be a high-end induction machine developed by ZF group for Traction Drive Application," ZF said. "The electric drive uses the same platform and shares the same components, such as the power inverter, that ZF is introducing widely for construction and road applications. This allows the growth of ZF's know-how and technology in E-Mobility to be applied to the marine industry as well."
The current test boat is equipped with a 60kWh Lithium battery pack with a dedicated fast battery charger, which allows up to 22kW of input. This charger is compatible with the most common types of EV charging stations, which are increasingly present as the charging infrastructure for road vehicles expands. ZF says the battery pack allows for displacement speeds exceeding 7kts and a range of around 30 nautical miles.
"The battery pack is positioned at the stern and is provided with a cooling system for best performance," ZF explained. "The drivetrain is positioned correspondingly and takes the place of the diesel engine. The electric motor connects to the ZF steerable saildrive where maneuverability is further improved thanks to smooth control of the electric motor with no clutches involved."
Costs of ownership
"Saildrives are very popular with OEMs," ZF says. "We currently build around 5,000 units a year, so we have economies of scale. Obviously the SPP is a more complex system but anyway, with same manoeuvrability performances, the cost is comparable to a conventional fixed saildrive boat equipped with bow and stern thrusters."
Maintenance issues are also on a par with a conventional saildrive. "There isn't much difference," ZF says. "The usual service items remain the same – routine checks of seal integrity and oil levels and annual anode replacement, and that's about it."
Currently, the SPP is available as the ZF SD 12 SSP for engines of up to 92hp (68kW). However, a new generation, the 15 SSP, will be for engines up to 154hp (113kW).
ZF has long been a pioneer of hybrid drives, but even with the all-electric version hydro-regeneration isn't yet an option, but we have no doubt that ZF are looking into it. Currently, a typical installation would be to a conventional diesel engine with a bow thruster, one ideally configured for long run times.
In the field
Engaging the system requires a set sequence that has to be followed precisely, including putting the engine into neutral and then switching on the autopilot to centre the rudder. However, full engine power is available during a manoeuvre, adding extra security when docking against a strong crosswind or fierce current. The electric version has the added advantage of fully controllable revs, ranging from a few turns a minute to full power if needed. There will be no noise or exhaust, either, ideal for early starts from a sleepy harbour.
"Although the new system is a little bulkier than a standard drive when installed, we expect the new SPP to prove very popular, especially with charter fleet operators," says ZF. "We are already the sole supplier to volume producers such as Bavaria, Beneteau and Hanse, and we see this new system as bringing unmatched manoeuvring capabilities to the market. This will encourage more people to try boating and to discover that berthing a boat, even in a crowded marina, is a simple and intuitive operation." 
For more information, visit: ZF.com/Marine