New event to review marine infrastructure and tourism prospects in China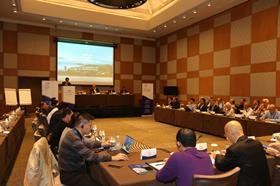 A new strategic summit which will address the prospects for yachting, marine tourism and related infrastructure in China is planned to be held in Hainan from March 25-27, 2019. The event follows a recent roundtable held in Hainan to discuss the Chinese market and in particular the plans for Hainan, which is China's most promising yachting area.
The new initiative is being led by Arthur Tay, CEO of Singapore-listed SUTL Enterprises Pte Ltd, which manages, operates and develops marina projects in Asia and elsewhere. SUTL has two projects in China, two in Indonesia and one each in Thailand, Malaysia, Singapore and the US.
Some 50 people attended the roundtable, including Mike Simpson of Simpson Marine, YPI CEO Laurent Debart, Cameron Bray of N&J/Bray Management, John Kwong of International Yacht Harbour, and MaryAnne Edwards of AIMEX.
Tay has a particular interest in developing this initiative, as SUTL signed an MOU last year with the Hainan Cruise & Yacht Association (HCYA) to help develop the yachting market in Hainan and introduce best practice.
The Chinese government has also launched an initiative under which it will use Hainan as an experimental zone for developing the yacht industry in China.
Initial details of the initiative were given at the Asia Pacific Superyacht Conference held in Singapore earlier this year by Li Ning, secretary general of the HCYA.
At the time, Li Ning told IBI: "This new experiment will be developed over the next one to three years and it will include yacht building, new marinas and other yacht-related activities. Currently Hainan has 14 marinas which offer a total of 1,835 berths for yachts up to 60m (195ft). The largest of these has 700 berths."
Li Ning said that large yacht-building yards would be established and subsidised by the Chinese government. "A number of areas for yacht industry centres are being identified and participation in these will be open to both domestic and international companies which would receive the subsidies," he said.
The holding of the recent roundtable and the planned summit next March is part of the MOU agreement between SUTL and the HCYA.