This year's conference in Düsseldorf to focus on booming charter market and its challenges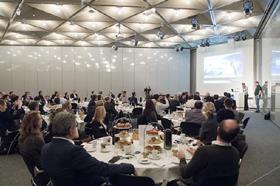 Boot Düsseldorf and European Boating Industry (EBI) have announced that the fourth edition of the International Breakfast Meeting will be held at boot Düsseldorf on Tuesday 22 January from 08:45-10:30.
"The International Breakfast Meeting was developed to answer the visitors' need to combine a commercial presence at Europe's largest indoor boat show with obtaining the latest news on regulatory and market developments worldwide," says EBI secretary general Sandrine Devos, speaking on behalf of the joint organisers. "This is what the breakfast session will continue to do – providing in two hours the industry intelligence and updates that exhibitors and journalists are looking for, allowing them at the same time to meet and network with their peers."
The focus of the 2019 International Breakfast Meeting will be on the booming business of charter boats and its challenges.
"Chartering is now the segment which is experiencing the fastest growth, which directly benefits the nautical sector as a whole," Devos adds. "Consumption patterns have changed in leisure boating; boatbuilders are well aware of the new trends and logically want to address them. It only made sense to us to organise an event where the two businesses could meet and discuss."
Boot Düsseldorf director Petros Michelidakis, Robert Marx, president of boote Düsseldorf, and Piero Formenti, EBI president, will welcome the participants and introduce the panel as well as the topics.
The keynote address for the conference will be from Felix Leinemann, Head of Unit, DG Mare, and European Commission who will address the lack of recognition between the different national qualifications of professional skippers and how this constrains the potential of the charter market.
The main session of the conference will focus on the issue of how the charter business is impacting boatbuilders, how they are adapting to the new demands of charter customers, and the specifications required and future trends. This session will include presentations from Josie Tucci, vice president of sales and marketing at The Moorings and Sunsail, Fabian Escude, sales manager of Spanish charter firm Hermanos Guasch, and David Irvine, co-founder and chief technology officer of the Enaviga boat rental platform.
The International Breakfast Meeting will take place at boot Düsseldorf on Tuesday 22 January in the Congress Centre Dusseldorf (CCD) East Room M from 08:45-10:30.