Delegates took part in presentations and networked over breakfast at this year's event in Düsseldorf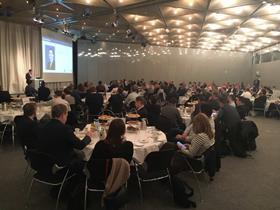 The focus of the 2019 International Breakfast Meeting, held on Tuesday 22 January at boot Düsseldorf, was the booming business of charter boats and its challenges for boatbuilders.
Held annually during the show and organised by the European Boating Industry (EBI) association and boot Düsseldorf, the program allows delegates to participate in presentations and networking over breakfast, whilst not taking time out from the show's working day.
The fourth edition of the International Breakfast Meeting continued its popularity with the industry as the number of delegates this year grew to 150.
Beneteau CEO and chairman Herve Gastinel reflected the feeling of the delegates as he gave his comments to IBI at the end of the event. "We are clearly at a turning point and I do truly believe our role both for manufacturers, operators and boaters is deeply changing, so we need to adapt. There are two key takeaways from the event for me for the future. Firstly, the growing importance of technology for this industry, and secondly, environmental sustainability."
The fast-moving program featured short but concise 15-minute presentations preceded by a welcome by Petros Michelidakis, director of boot Düsseldorf, Robert Marx, president of boot Düsseldorf, and Piero Formenti, president of European Boating Industry (EBI).
The keynote address by Felix Leinemann, Head of Unit, DG Mare from the European Commission, addressed the 'blue economy' and produced some interesting statistics including:
The 'blue economy' in the EU maintains growth with six million leisure boats and 36 million people taking part in recreational boating
The 'blue economy' will double in volume by 2030
Wind power now employs 160,000 people in the EU and is larger than the fishing economy
Charter comprises 30% of the blue economy
There is a shift in the boating market away from ownership of boats to hiring
80% of the charter business in the EU is conducted by five companies
The marina business in the EU employs between 40,000 to 70,000 people and has a turnover of some €4bn
Only 2,000 boats a year in the EU are currently recycled at end of life, despite some 80,000 boats being taken out of service each year
Lack of recognition of helm licences across EU countries is a key issue
The main session of the conference focused on the issue of how the charter business is impacting on boatbuilders, how they are adapting to the new demands of charter customers, what specifications are required and future trends. This session included presentations from Josie Tucci, VP of sales and marketing at The Moorings and Sunsail, Fabian Escude, sales manager of Hermanos Guasch, and David Irvine, co-founder and chief technology officer of the Enaviga boat rental platform.
Interesting facts from the main session of the conference included:
The growth of catamarans in the charter fleets, both sail and increasingly power
Key future trends relate to the environment, including electric and hybrid boats and interconnectivity of the boat with the charter base, the rise of the 'smart boat'.
The charter industry is now quite mature and very competitive