A record turnout is expected at the Australian Superyacht Rendezvous next month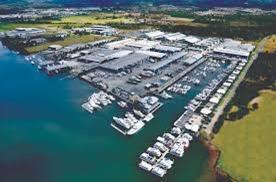 The 3rd Australian Superyacht Rendezvous (ASR), held from May 17-18 at Gold Coast City Marina & Shipyard (GCCM), will this year include the largest display of superyachts ever seen in the country.
The ASR starts two weeks of recreational marine events on Australia's Gold Coast, which also includes ASMEX (the Australian Superyacht & Marine Export Conference) from May 20-21, the Sanctuary Cove International Boat Show (SCIBS) from May 23-26, and the Marinas19 Conference from May 27-28.
With the 36th America's Cup Series just two years away from being held in 2021, more and more superyachts are considering making the long voyage to the Asia-Pacific region.
The ASR organisers consider that the large fleet of superyachts attending the Rendezvous this year will help position Australia firmly on the superyacht world stage. Well over a dozen superyachts, both for sale and charter, are so far scheduled to participate in the ASR. These include Aurora, Atao, Beluga, Corroboree, Emerald Lady, Ghost II, Karanita, Lady Pamela, Masteka 2, Patriot 1, Silentworld and Sophia, along with foreign-flagged Little Blue and SuRi.
Trenton Gay, CEO of GCCM and organiser of the ASR, says the event will be an impressive A$200m-plus showcase of the finest and most luxurious superyachts currently in Australian waters. "The Australian Superyacht Rendezvous will present the most comprehensive and impressive assembly of superyachts ever seen in Australia and it's an exciting coup to have a renowned international vessel joining our line-up of stellar Australian-based yachts."
The participation of the 63m (208ft) expedition yacht SuRi is seen as particularly significant for the 2019 ASR. Originally from the US, SuRi is a yacht that spends summer cruising the South Pacific-Fiji region and winter in South America.
Gay comments: "While some of the yachts have participated in the Australian Superyacht Rendezvous previously, there are several making their debut at the event. These yachts are some of the busiest charter vessels in Australia and it is fantastic for them to take time out of their busy cruising schedules and even cruise interstate to be at ASR and help us demonstrate the calibre of superyachts in Australia at the moment."