The second edition of the Dubai International Superyacht Summit will take place from February 27-28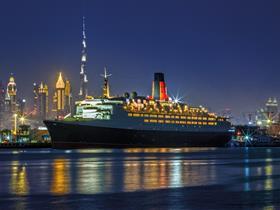 The Dubai International Superyacht Summit (DISS) will celebrate its second edition next year on February 27 and 28 on the iconic Queen Elizabeth 2 (QE2) moored in Mina Rashid Port in Dubai under the patronage of P&O Marinas. The summit takes place during the Dubai International Boat Show to maximise delegate numbers.
According to the organisers, DISS 2019 will bring together key local and international business leaders in the superyacht industry to build on the achievements of the first event held in February 2018. The programme will include keynote sessions and panel discussions on a wide range of industry topics including:
Day 1: Progress made on developing the UAE as a winter destination for superyachts in the private and charter market
Day 2: Legal and compliance issues, safety and security for yachts, owners, guests and crew
Rado Antolovic, CEO and managing director of DP World Maritime Services Division, said: "This summit will enhance Dubai's position as a superyacht destination of choice, offering a full spectrum of marine services and solutions. As part of the Maritime Services Division of DP World, P&O Marinas is expanding the city's marine services, developing a unique proposition to further grow Dubai as a state-of-the-art maritime destination. We are working closely with all stakeholders to provide luxury marine lifestyle services with industry expertise, to build on Dubai's international reputation for world-class superyacht and marine services."
Tony Crabbe, CEO of event organiser Fabulous Yachts, said: "The UAE is well placed to become a desirable winter destination for superyachts. What is now needed is the collective will and determination to develop a positive regulatory environment and a desire to welcome these yachts to our shores."
Mohammed Al Mannaei, CEO of P&O Marinas, said: "P&O Marinas will continue to be the catalyst that brings together enabling authorities and the wider yachting community to pave the way for the UAE to become a favoured superyacht destination."
Attendance at the event is by prior registration with the organisers.