Around 180 delegates attended this year's event in Düsseldorf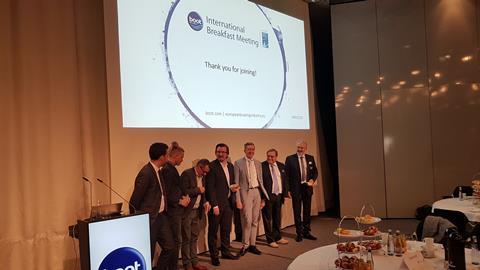 The European Boating Industry (EBI) breakfast briefing on 'Sustainable boating – Future trends and Innovation' held during the Düsseldorf Boat show attracted a record number of delegates this year.
EBI president Jean-Pierre Goudant spoke with IBI after the annual breakfast meeting on Tuesday. "I am extremely pleased that we had 180 delegates attend this year's breakfast briefing, up from 150 last year. This is the largest number of delegates that we have achieved in the five years we have been staging the event," he said.
"I think the most important formulae for a successful event is to have a good topic and find a key speaker to lead the discussion. This year we found a subject that is rapidly gaining prominence both within and outside the Industry – sustainability and the green environment. Fortunately we were also able to find an expert speaker in Dr Artur Runge-Metzger, who is right at the heart of the European Union as Head of Unit Climate Strategy, International Negotiation and Monitoring of EU Action, DG Environment, European Commission'.
Discussing the importance of sustainability to the industry, Goudant said: "Sustainability and the environment is the main priority for EBI in the future and to this end we hired a new secretary general, Philip Easthill, based in our office in Brussels close to the EU offices. Philip's main mission is lobbying at EU level about environmental issues. It is our intention to continue the annual breakfast meeting with a decision on the key topics for the 2021 event, to be made in March this year."
With environmental sustainability the flagship project for the new EU parliament, the presentations by keynote speaker Runge-Metzger and boatbuilders Greenline and La Bella Verda raised several points of great importance to the marine industry during the breakfast briefing, including:
Changing weather patterns and limiting sea level rise where possible.
Sea pollution given that there is an estimated 4.8 to 12.7 million tonnes of plastic entering the ocean each year, according to figures published in the journal Science in 2015
Electrification of boat propulsion
End of life boat disposal in the EU considering that 1.5 million boats went to landfill in the US since 2012
How to build boats sustainably
The ban on diesel engine boats in certain parts of the EU starting 2024
How all of the environmental measures for the industry will be funded considering a major part will have to be funded by the industry
The annual EBI breakfast meeting is held with the support of the Düsseldorf Boat Show annually and is free to industry members.