The 25th bi-annual event was well-received by a large and enthusiastic crowd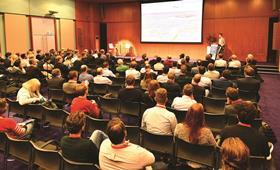 Celebrating a half-century of innovation in yacht design and construction, the 25th bi-annual HISWA International Symposium on Yacht Design and Yacht Construction featured a "Back to the Future" theme for its golden jubilee edition that was well-received by the large and enthusiastic crowd of delegates in attendance.
Hosted at the Amsterdam RAI conference centre on November 12 and 13 in association with METSTRADE, the symposium kicked off with a keynote '50 Years HISWA Symposium, 50 Years Innovation In Yacht Design' address delivered by Gerard Dijkstra, Dykstra NA and Dr.ir. Lex Keuning of the Delft University of Technology. The presentation explored new innovations in yacht design and construction with reflections on the past, setting the tone for a packed two-day program of discussions that looked squarely at the future.
Day one presentations included a technical discussion on the future of battery storage in large yacht system architecture, presented by Simon Brealey, Meng, Lateral Naval Architects, a review of a feasibility study of ultra-thin, high-strength glass in yacht design presented by Sam Gregson, with Eckersley O'Callaghan Engineers, and a discussion on hybrid propulsion onboard sailing yachts delivered by ir. Evy de Maeyer, Oceanco and Dykstra Naval Architects. Following a question-and-answer session and a short break, the Monday program concluded with a dinner boat cruise on the Amsterdam canals terminating at the Rode Hoed and an evening at VriThink's Night Out where delegates heard five-minute presentations from 14 designers, naval architects and boatbuilders sharing creative ideas and concepts.
The conference continued on Tuesday morning with a keynote address by Prof.ir. Matthijs van Dijk, Delft University of Technology on the process of creative thinking, followed by presentations on haptic support for small ships sailing in waves by Dr. Arthur Vrijdag and Dr. Roy Kok, Delft University of Technology, and a focus on superyacht construction design space exploration by Feadship's M. van Wijngaarden.